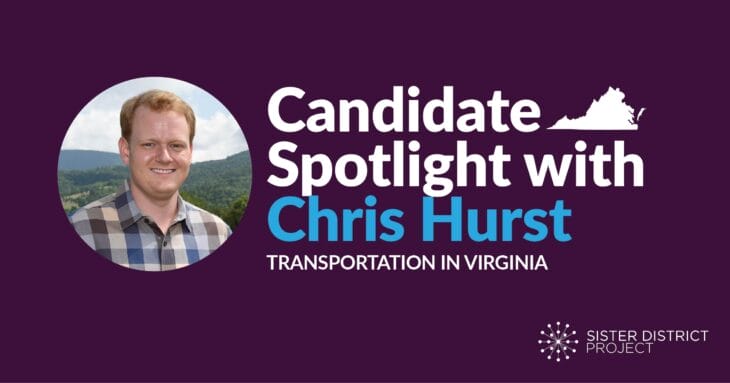 This is a transcript of an interview that originally appeared on Instagram Live. Remarks have been edited for clarity and brevity. To watch the full video, view it on Sister District Instagram.
View this post on Instagram
Lyzz Schwegler:
We are live right now with Delegate Chris Hurst. We are going to be talking about transportation and infrastructure in Virginia, which is a great illustration of why state legislatures can be more effective and faster at delivering than the federal government.
Delegate Chris Hurst:
Hey, Lyzz, great to be with you. I appreciate what you're saying about states stepping up to try and provide for transportation infrastructure when the federal government doesn't.
I don't want to be a hater, but it certainly has not been a priority for the federal government to maintain the infrastructure that they put down. The Interstate highway system, they bought it, they put it together, but they walked away from it and left it up to us to maintain.
In Virginia, we have prioritized transportation over the last few years. I serve on the Transportation Committee, and Governor Ralph Northam and his Secretary of Transportation Shannon Valentine have not only prioritized transportation funding at the state level, but made major investments in transportation.
I'm in Radford, and we're along the Interstate-81 corridor. It is one of the largest trucking corridors in the country. Most of the packages you get in the mid-Atlantic region will at some point travel along Interstate-81, and it is very crowded, very congested, and very unsafe.
When we have crashes with trucks, it shuts down lanes in both directions for hours. Just earlier this week, a vehicle fire led to backups for more than 20 miles.
Two years ago, we did a huge $2 billion transportation package that I was able to help negotiate that helps to build out Interstate-81, and it also set aside money for alternative transportation.
Just this past year, we were able to announce a $250 million state package to buy rail from Norfolk Southern and bring Amtrak service to my district in the New River Valley. We are literally putting my district on the map this year and it's because states like Virginia that have Democratic leadership are stepping up to the plate and actually funding the things that folks want us to do.
Lyzz Schwegler:
I live in DC and I've driven through Virginia on I-81 many times. I have to say, it's very beautiful, especially in the springtime, when the dogwood and the redbuds are blooming!
Delegate Chris Hurst:
I think it is one of our best natural assets. We have the New River that runs right through my district. It's actually one of the oldest rivers in the world. We're trying to protect it, clean it up, make sure that we have great water coming out of it.
But we also want to make sure that it's easier to get to. So, we're a community that's trying to add direct flights from our airport to more communities. We're trying to get passenger rail service Amtrak down here. We're trying to grow Virginia Tech and Radford University, which are in my district.
Lyzz Schwegler:
You've mentioned Amtrak a couple of times, and I know that you played a key role in expanding service, including bringing a new station to the district. Can you talk a little bit about that in a little more detail?
Delegate Chris Hurst:
We hope to be able to add tens of thousands of people to Radford and Montgomery County and Giles County, over the next couple of decades.
We are an area that is competing to try and grow. In order to do that, we have to be connected to the rest of Virginia and the rest of the country. Rail makes a huge amount of sense for us to try and get more folks off of highways to try and get more folks to convert out of automobiles.
In Virginia, we just created the first commuter rail authority for the whole state. So, we are prioritizing it at the state level. Here locally, there was an effort for more than 10 years to try and get Amtrak to come here. We have it in Roanoke, which is about 45 minutes north of here and a fabulous city that everybody should visit.
Now we're trying to figure out what's the next thing we want to do. I really would love to see us make additional investments in commuter rail so that instead of having to commute on Interstate 81, like my girlfriend does – she's an ER nurse – instead she could take a train.
I grew up in suburban Philadelphia, in Chester County. We took trains to go into Center City. That's what my folks did to go to work. We can bring about that kind of environment again. We can build our communities that way. We're stepping up and trying to make sure something like that happens.
Lyzz Schwegler:
It occurs to me that a lot of our listeners might not be super familiar with your area of Virginia. Can you just describe it a little bit? It's mountainous, a combination of rural and then some urban centers, and there's a couple of universities. There are very different transportation challenges from what we have up here in Northern Virginia.
Delegate Chris Hurst:
Well, I tell people that we're the "blueberry in a bowl of strawberries" down here, at least politically, but we have always tried to in a bipartisan way to get things done for the region.
We have a wonderful academic community here with Virginia Tech and Radford University, two preeminent colleges in Virginia. I represent more college students than anybody else in the legislature.
We have about 45,000 up to 50,000 college students that come into this district for 10 months out of the year. We have a very college-educated district, and they really want to make sure that we see some changes here for the better.
We are also trying to get broadband internet to this district. We've been able to get thousands of people connected to broadband speeds since I took office. In the last four years, we've cut the number of people who don't have broadband in Virginia in half from about 500,000 to less than 250,000. And we're about to put $700 million of the federal rescue plan funds to broadband programs that will actually deliver that last mile connectivity.
So, in the next two years, we think we're going to be the first state in the south to get to a 100% connection rate for broadband internet. And that's pretty amazing to say.
Lyzz Schwegler:
I love that. The last year and a half has really shown us just how critical broadband access is not just for everyone who loves to stream their Netflix, but for work and especially for school, for kids that are living in underserved areas. Kids should not have to go to a McDonald's parking lot in order to do their schoolwork.
Delegate Chris Hurst:
We saw that here, we continue to see that. When we took over the majority we finally funded a program to help give grants to localities. It went from $1 million to $100 million. With this federal assistance, we can now increase it to $800 million total.
We're telling our communities: "Think big, what would a project be that could get broadband access to everyone?"
We're also doing a pilot project to extend service to those who have very long driveways, which we have a lot of in this district. This district is suburban, ex-urban in some cases, but it's also very, very rural. So, to be able to actually do the things that people have been clamoring for for a long time is really amazing.
Lyzz Schwegler:
Right, if you have a sort of farm or another property with a really, really, really long driveway, then of course, it's really difficult to get broadband.
Delegate Chris Hurst:
My girlfriend and I bought a house in Radford and we love this neighborhood. I think Radford really has it going on. It has a historic Main Street and some historic places next to the university. We are welcoming people here. We feel like if we can give them broadband and quality of life amenities, things do, we are one of those communities that lots of folks who work remotely in Northern Virginia, in Baltimore, in Philadelphia might be interested in.
We see that as a trend. Why don't you give the New River Valley a shot, look into us and see if we might not be a great fit for you? We're a relaxed community, and we are a growing community. We are trying to be as progressive as we can to make sure that this remains a fabulous place to live, work, raise a family and retire.
Lyzz Schwegler:
Well, with all the university students, it sounds like you must be doing a lot of voter registration for some of your local new voters.
Delegate Chris Hurst:
Yeah, we do that all the time. They deserve to have a voice. We've done protections for student journalists for college newspapers, so they can't get censored ridiculously by administrations.
I was with the governor today at Virginia Tech, to announce that out of the federal money, we're doing an additional $111 million in financial aid grants for students to try and help reduce the overall cost for higher education.
So many people have a great college experience here, but then they leave and just reminisce. It's part of their nostalgia later on. We're saying, "No, you can stay here. You can raise a family here. You can have a great ascending career here." That's the pitch we make to these students when we get them to register to vote here.
Lyzz Schwegler:
And if they feel that they're accurately represented and have ties to the community and the political infrastructure, hopefully it's more likely that they'll want to stay.
So, you've been in office for two terms now, since 2017. During your first term, we weren't quite able to flip the House of Delegates. We were able to do that in 2019, and you've been able to get a lot of great legislative priorities through since then. What is next on the horizon in terms of transportation?
Delegate Chris Hurst:
I think it's trying to re-imagine a lot of things in transportation.
A year and a half after COVID, we all need to trim down a little bit. We need to eat cleaner. And I think you can extend that kind of mindset to government. We did the bread and butter stuff. We're doing infrastructure, we're doing transportation, we're doing broadband. We increased the minimum wage.
Part of the reason why the labor market is all screwed up right now is we aren't really paying folks that much in order to make them feel like they have dignity for the work that they're doing.
So, one of the priorities moving forward is around improving workplaces. I've passed legislation that prohibits retaliation for sharing wage information in the workplace.
This was something I experienced when I was a TV anchor. Women reporters, co-anchors made less than me, even though they had more experience. The only way they found out, so they could negotiate for what they deserved, was because we happened to talk about this stuff when we were putting our makeup on. But there should be no threat of retaliation.
I'm knocking on doors right now and talking to some folks and they've mentioned that bill, but then say it's still happening with their employers. So, we are trying to figure out how we make the system more robust and make sure we're holding employers accountable.
We also want to make sure that we do a whole host of things to improve the lives of working families. Paid family medical leave, paid time off. These are things that are very much on the horizon to try and improve the conditions for working families in Virginia.
Lyzz Schwegler:
I'm glad that you mentioned the minimum wage because we've been reminding folks that one reason Virginia is still so important, even though it's a Democratic trifecta, is that you all are going to have to vote again on the minimum wage. It's currently being phased in to $15 an hour. But if we don't maintain control of the House, then that is all going to backslide very quickly.
Delegate Chris Hurst:
That's a great example. We've gone from $7.25 to $9.50. We're going to go into double digits per hour in January. But $15 an hour needs to be revisited and requires reauthorization.
Glenn Youngkin is running for governor on the Republican ticket. He was forced out as the CEO of The Carlyle Group in Washington, DC, but he's walking away with hundreds of millions of dollars.
He has pledged to use up to $75 million of his own money to try and buy the executive mansion, to try and buy the House of Delegates. He's funding my opponent and funding dozens of opponents across the Commonwealth. They are very angry that we have done things like try to raise the minimum wage. They are very angry that we did common sense gun legislation to make sure that there are universal background checks and passing a red flag law to help make sure we take firearms out of dangerous situations. They don't like that we repealed all of the onerous restrictions on women's healthcare, like a required ultrasound and a required 24-hour waiting period.
In Virginia, we've gone from dead last in access to the ballot to the top 10, because we passed the Virginia Voting Rights Act this year. We have done so much in Virginia that we have to protect, that we have to keep.
I would hope that's a huge motivator to get folks to contribute, to knock on doors, to make phone calls, to get out and vote, to encourage your friends to get out and vote. I think that everything really is on the line again, because this battle isn't over yet.
Lyzz Schwegler:
You're speaking about women's healthcare, and there's a significant chance that Roe v. Wade will be overturned next year. Virginia will be one of the few Southern states that actually does provide a lot of protections for women's healthcare. Our neighbor West Virginia has trigger laws. That means that unfortunately Virginia is going to become a bit of a commuter state for people who are seeking healthcare that they need.
Some of our 2020 candidates in Texas are now in DC trying to break quorum back in Texas, because that is the last tool at their disposal to stop the GOP-controlled legislature. It's just incredible to see the difference between the legislature in Virginia and what you all have been able to achieve in the last couple of years.
Delegate Chris Hurst:
I think it's pretty spectacular, God bless them.
I like to stand on the sidelines sometimes, stand in the back of the House floor and just admire what voters in Virginia put together. On our side of the aisle, we have incredible diversity. We have folks from all walks of life. We have veterans and teachers and preachers and all sorts of folks that really give a damn about trying to get policy right, and about trying to do landmark things.
Our Speaker Eileen Filler-Corn and Majority Leader Charniele Herring get impassioned talking about ensuring that we don't screw up this opportunity. I really think that we have been the most consequential General Assembly that Virginia has seen.
The other side says we've gone too far too fast. I try to have compassion for those who genuinely are concerned, it's always a delicate balance, but I don't think we've gone too far too fast. I think we have just brought Virginia into the 21st century. And now we're trying to make sure that we build a Virginia that's going to help be a safe and welcoming place for the rest of this century.
Lyzz Schwegler:
Delegate, as we start to wrap up here, we have a couple of little speed questions just for fun.
Since we're talking about transportation, put yourself in the mindset where you're stuck in traffic on I-81: what is your go-to playlist or your go-to "deal with traffic" song?
Delegate Chris Hurst:
You're going to embarrass me!
Lyzz Schwegler:
Whether or not you want to embarrass yourself is your choice, Delegate.
Delegate Chris Hurst:
Ok, probably still Dua Lipa.
I was with her from the beginning from her first album and she really helped me during the pandemic. It would be really cool to see her live.
Lyzz Schwegler:
I am looking forward to live music myself! You mentioned the pandemic life looks a lot different for you now than it was in 2017. You mentioned you bought a house. What else is going on? What are the biggest changes?
Delegate Chris Hurst:
I'm just incredibly happy and blessed and fortunate. My girlfriend Emily and I met about two years ago while I was on the campaign trail in 2019. She's an ER nurse and also has been doing some travel nursing. Now I'm a first-time homeowner too, and we're really loving living in Radford.
Sometimes in the morning I garden and try and figure out if I have a green thumb or not. It's great to have something to check out from everything related to the campaign sometimes.
Lyzz Schwegler:
People often don't realize just how much your home and your life and your entire family are completely co-opted into the campaign, especially when you're running at the state level.
Delegate Chris Hurst:
Yeah. We are a part-time legislature. So, it pays about $18,000 a year. Not complaining about that. I think that there is some value to part-time legislature.
I look at somebody like Danica Roem, I think she has such a model "servant" relationship with her constituents, that I think all of us aspire to try and replicate. We all try to do the best that we can.
After Trump got elected, a lot of us were called to this in a variety of different ways. We didn't come into this as a lobbyist or a fixture within a party. We came into it just as people and we really give a damn about what we're doing and we want to get stuff right.
Lyzz Schwegler:
It's funny that you mentioned Danica because I asked her once what advice she had for volunteers that were feeling burnout and her answer was, "I can guarantee you that the volunteer with the biggest burnout on the campaign is the candidate themselves."
Delegate Chris Hurst:
We have to find all sorts of stuff to fill our cup again, but knowing all the things that we've been able to do in the legislature really helps.
Lyzz Schwegler:
Absolutely. Thank you so much Delegate Chris Hurst. We're so thrilled to be supporting you again.
Delegate Chris Hurst:
Thank you so much for having me. Sister District really is the best. You guys are focused on state legislatures and state legislatures matter. And we need to make sure that if there is a state that has made progress, we want to make sure that that keeps happening. We don't want to give it up. So, thank you very much, Lyzz.