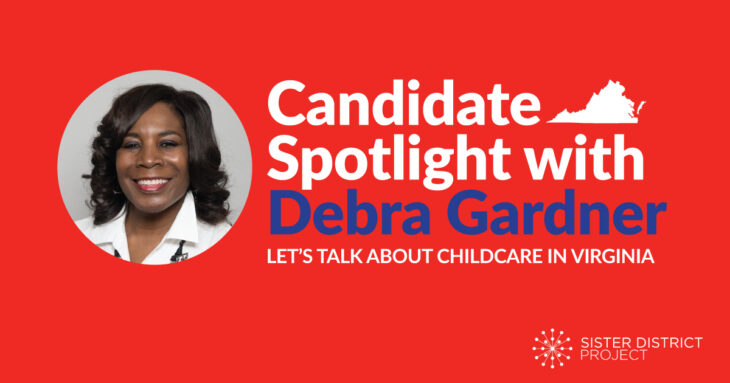 This is a transcript of an interview with 2021 Virginia House of Delegates candidate Debra Gardner and Sister District Co-Founder Lyzz Schwegler that originally appeared on Instagram Live. Remarks have been edited for clarity and brevity. To watch the full video, view it on Sister District Instagram.
View this post on Instagram
Lyzz Schwegler: We're going to be talking about many different things including childcare, but first, I want to give you a chance to introduce yourself and tell us a little bit about why you're running.
Debra Gardner: All right. I am a proud daughter of the South. I was born to a single mother and raised by her and my grandparents. I was the first person in my family to actually attend college. And my grandparents taught me at an early age that there was no greater gift than helping and serving other people.
I spent the past 30 years of my life working to help people, from working in the education public sector, and public safety. I've spent my career as a social worker. So I think helping people is in my DNA. I'm excited to be running for office here in the 27th District, which is right outside of Richmond, Virginia in Chesterfield County.
I've lived here for 30 years, raised my daughter here, and just am continuing to do the work of helping people.
Lyzz Schwegler: One of our volunteers was phonebanking for you, calling voters, and she spoke to a voter who was convinced to vote for you based on your childcare policies. Can you talk to us a little bit about what you would want to see change with childcare in the Commonwealth and what some of your policy goals are?
Debra Gardner: Being a single mom myself, I've been interested in childcare for years. One of my biggest struggles was trying to find quality childcare for my daughter. She's 20 now and doesn't need childcare, but for the past seven years, I've worked as a member of the board of directors for Smart Beginnings for greater Richmond.
What we do is advocate for early childhood education, which includes childcare. We work with the system to try to shore up services for those from 0 to 5 years old, because those are the most formative years.
By age three, children have already formed, and we know if they're going to be ready or not to enter kindergarten. One of the things that we do is advocate for families to be able to have quality, affordable, accessible childcare.
I also worked as the Chief Deputy Director for the Virginia Department of Corrections. And I've actually seen that we don't put the work in on the front end, we're going to put the work in on the back end.
We advocate for pre-K for all. And I know that's a big step here in Virginia, but I think it's just like eating an elephant—you do a little bit at a time. So we're advocating for 3 and 4 year olds to be able to have full day pre-K. We have slots with private providers as well as public providers.
If I'm elected, one of the things I want to do is try to expand the number of slots working towards getting universal pre-K.
Lyzz Schwegler: I love that you talked about how you, as a single mom, know firsthand all of the challenges involved. It really highlights how important it is to have people with real lived experience in office, actually developing these policies. You know what single moms need, because you are a single mom a single mom.
Debra Gardner: Yes. That's one of the reasons that I'm running. I have been "boots on the ground" in all the positions I've had.
I think it's important that we actually get people who are making policy who have had to actually interpret and implement policy with real people. It's about time we get people like me as practitioners helping to make these policies, because we see how they directly affect the constituents that we're making them for.
It's clear that the problem of women having to leave the workforce because they do not have childcare or elder care was really laid bare by COVID. It was always there; we've always had these issues. But now everyone has realized how much of a problem it is, and we can now get some work done on getting it resolved.
Lyzz Schwegler: Definitely. COVID seems to have really, like you say, highlighted and laid bare all of the existing inequities, and we're ending up with a lot of women exiting the workforce and potentially not even being able to come back, especially now that a lot of schools are still virtual or partially virtual. How are you supposed to go to work for a full day if you also need to take care of your kids? It's too difficult.
Debra Gardner: Yes. And you can't focus if you're worried about, "Is my child safe? Have I put them in an environment that's going to be conducive to their growth, their continued growth?"
A lot of people don't think about the fact that a lot of childcare providers, especially in-home daycares, are run by women as well. So they also can't continue to work and take care of their own families.
So we have to make sure that we can get women back in the workforce, that we can get them quality, accessible, affordable childcare, and then get the childcare vendors back into the business.
We don't want to get back to normal. Actually, we want to get back, as Biden says, to "Build back better." We want to do that, especially with our childcare system.
Lyzz Schwegler: You mentioned that you have experience with the Department of Corrections, and you've seen firsthand how if we don't invest up front in our kids, then we're eventually going to pay the price later. What's the difference in terms of the cost? A lot of this legislation will cost money, but hopefully can alleviate some of the costs of trying to fix people's lives later. After all, your budget is a reflection of your values.
Debra Gardner: I think we hear a lot about "free childcare for everybody" or "free universal pre-K." Well, that's really, really good, but sometimes we have to figure out how we're going to pay for these things, and budgets can't always handle that.
Instead of holding out for "universal free everything," we need to start slowly. One thing we need to do is start adding additional slots for those kids who might be a little bit above the poverty line.
We start adding slots in public daycares, and in private daycares, and public schools, and then the private institutions as well. These can have a big impact for families, and we won't have broken the bank.
I don't have the current figures about how much it costs to house an inmate, but comparatively, the cost of providing childcare and quality childcare is much cheaper. Some parents in our area are paying about $10,000 for childcare. That's a college tuition for childcare! Most working families cannot afford to do that.
We need to refocus some of our resources and our creativity and not just say, "Because we don't have enough money, we don't do anything." We just need to start taking little pieces of it at a time, because $10,000 a year for childcare is just not reasonable for most working families.
Lyzz Schwegler: You talked a little bit about early childhood, ages 0 to 5. What about early childhood education, as they get a bit older?
Debra Gardner: I think as a society we need to focus on the cradle to career. If we start putting forth the effort when they are really young, they'll be ready for pre-K, and then they'll be ready for kindergarten. They won't start at a disadvantage.
Here in our area, 80% of our kids enter kindergarten not ready. They don't have the basics for starting to learn how to read.
And on the other end of education, not everybody is going to end up in college. We need to start working on programs where they can have apprenticeships, where they can go to community college, where they can learn a trade.
Those are all the things that we need to take into consideration so we don't end up with our kids in corrections, where we're housing them for astronomical fees.
If we start doing all of these things, from cradle to career, then we won't have what they call the "school to prison pipeline." It's not actually from school – it starts from the cradle.
Lyzz Schwegler: It starts even before the cradle, because when we aren't able to give women appropriate family leave and prenatal care, then babies are being born already behind.
Debra Gardner: We talk about healthcare for women, and making it affordable through organizations like Planned Parenthood. It's not all about contraception. It's about the healthcare that women need to be able to help have their children start off before they're even born, to be healthy and not at a disadvantage.
Lyzz Schwegler: Absolutely. A lot of people don't realize that there is no federal paid family leave; it's just up to the employer. So if women are in low or minimum wage jobs, how likely are they to get six weeks or four months of paid time off to be with their newborn?
Debra Gardner: Yeah. They don't have paid leave. They don't have sick leave in many instances, so they can't even take off to go to appointments if they are pregnant in our area.
Maternal mortality is growing because women are not able to access the healthcare that they need before and during their pregnancies. Especially in communities of color, we have a very high, not just infant mortality rate, but the mortality rate for women is very high as well.
Lyzz Schwegler: The disparities are really, really big, and it's incredibly shameful, in this day and age.
Debra Gardner: I came of age in the 60s, when that kind of healthcare was not accessible. But here we are in 2001, and it's still not affordable or accessible for some women. So it seems like we're not moving forward as much as we should be. And we need to start refocusing our attention on those issues.
Lyzz Schwegler: I completely agree.
So, we're going to wrap up here and move on from our very substantive policy discussions to a little "rapid fire," some fun questions.
Debra Gardner: Okay!
Lyzz Schwegler: What is your debate walkout song?
Debra Gardner: Aha! Well, somebody's got it right on the nail in one of these chats. It's "This Girl is on Fire."
Lyzz Schwegler: Yes! I love that. We're going to have to use that as the soundtrack for this interview.
Debra Gardner: I love the song.
Lyzz Schwegler: Next question: You're finally alone, you've won the election, this is November 4th. What does your "happy dance" look like?
Debra Gardner: Well, there's actually a video out there with me doing my happy dance!
Lyzz Schwegler: [Laughing] Oh my!
Debra Gardner: It's actually to the real song, "Happy." That's one of my favorite songs. So when it comes on, I just can't help but move.
So if you see me when that song comes on, that's my happy dance. I can't help but get up and shake around.
Lyzz Schwegler: That's what we'll be playing at your wrap party!
Next question: the campaign trail is really hard, we are very well aware that it's really grueling. So what keeps you going when you're on the campaign trail? Do you have special snacks? What's your go-to fuel?
Debra Gardner: Chocolate. Anything chocolate, particularly, I love Hershey bars. So give me a little bolt of chocolate, and I can pop back up and be like the Energizer bunny.
Lyzz Schwegler: Last question: What hidden talents do you have that you secretly wish people asked you about?
Debra Gardner: I laughed about this earlier, and I thought, "Well, which ones can I talk about?"
Lyzz Schwegler: It's a safe space here, Debra, you can talk about anything.
Debra Gardner: I guess it would be gardening. I love working in the dirt. I love getting my hands in the dirt. And I can make plants grow. I'm not like my grandmother, she could turn a weed into a flower. I'm not quite that good, but I'm almost that good.
Lyzz Schwegler: Well, everybody's grandmother was amazing at gardening. So was mine! I also love that you are very good at making flowers grow and also making children grow. So some nice synergy there.
Debra Gardner: Exactly.
Lyzz Schwegler: I love that. Well, Debra, thank you so much for joining us today. We really, really appreciate it.
Debra Gardner: Thank you for all that you do. I really appreciate all the help that you've been giving us thus far. And thanks for having me today.