The Virginia primaries are officially behind us! It was a wild primary season, with Republicans and Democrats choosing their Gubernatorial nominees in very different ways, and with historic activity down ballot at the statewide and state legislative levels. Sister District alums had a mixed night, with two alums losing their races and one alum heading to the general in a historic contest. Read on for a quick update on the primaries.
Democratic Turnout
Statewide turnout for the Democratic primary was 8% of registered voters, or about 480,000 voters. In 2017, the last year that Virginians chose a Democratic gubernatorial nominee, primary turnout was 9.9% of registered voters. So, that's a decrease of about 11% this year compared to the last gubernatorial-year Democratic primary. In some parts of the state, Democratic primary turnout was way above 2017 (including Stafford and Westmoreland Counties), while in others, turnout was down compared to 2017 (including Nelson and Accomack Counties). VPAP has a great visual here of turnout across the state between 2021 and 2017.
State Legislature – A Historic Year
First off, if you thought candidates were excited to run for the VA legislature in 2017 and 2019, wait til you hear how many folks ran in 2021! Incredibly, 97% of the races in the legislature's lower chamber were contested this year, leaving only three out of 100 uncontested. That's the highest number of contested seats in a generation.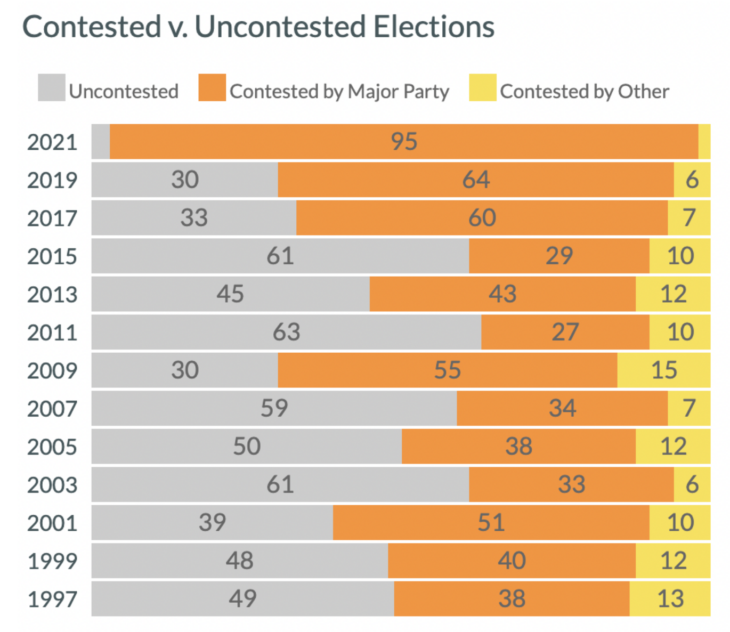 Source: VPAP
In addition, a historic number of incumbents lost their primaries this year. In total, 5 Delegates lost to challengers, which is more than double the number for other elections during the last decade. Of particular note is the number of Democrats who lost their primaries — several (but not all) from challengers running to their left. This indicates some serious progressive enthusiasm.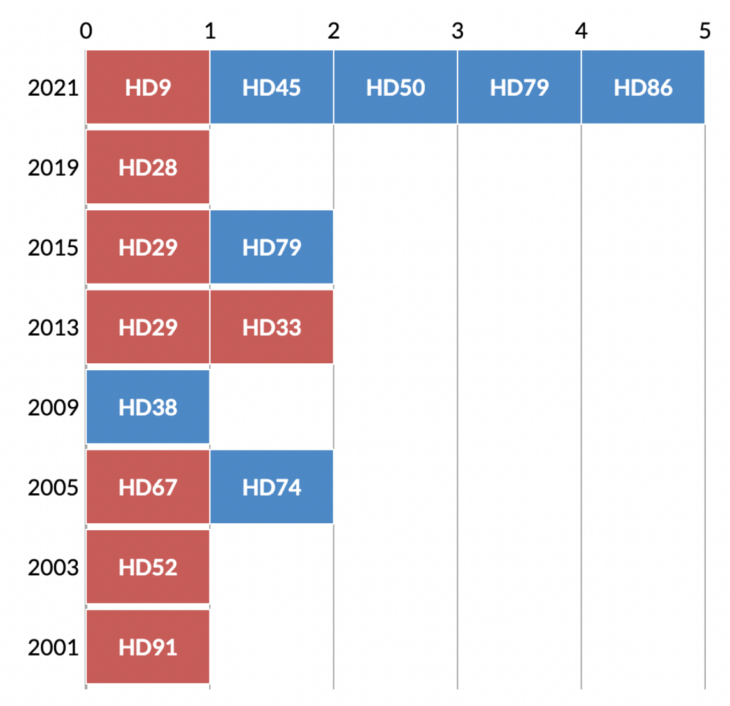 Source: VPAP
Gubernatorial Selection Process
Democrats and Republicans chose very different methods of selecting their Gubernatorial nominees in Virginia this year. Republicans chose to select their Gubernatorial nominee through an "unassembled convention" in May. Their process was very small-d undemocratic, as it excluded most voters in the state from participation. As a result, only 30,000 voters were able to participate in the Republican primary, out of nearly 6 million registered voters.
By contrast, Democrats moved forward with a standard, appropriately small-d democratic primary, held this week. In a five-way race, former Governor Terry McAuliffe prevailed, winning every single county in the state and 96% of the state's 2,452 precincts.
Democratic Spending
Democratic candidates raised a whole lot of money this year for their primaries. At the gubernatorial level, Terry McAuliffe outraised all of the other candidates, and won. At the Lt. Governor level, Sister District alumna Hala Ayala managed to triumph over a crowded field of six, despite not raising as much as at least two others in the race. And at the state legislative level, fundraising often, but not always, tracked to success. For instance, Sister District alum Elizabeth Guzman outspent her primary challengers and came out ahead; however, Sister District alum Lee Carter outspent his primary challengers and did not.
In terms of digital spending, the candidates who spent the most tended to win — but not always. Terry McAuliffe outspent the other Democratic gubernatorial candidates and won the primary handily. But at the Lieutenant Governor level, Sister District alum Hala Ayala spent the least on digital ads in the field of 6 candidates, and ended up winning the nomination. At the state legislative level, incumbent Democrat Candi King (HD2) was outspent nearly 4:1 on digital ads by challenger Pam Montgomery, but won with nearly 70% of the vote. And in HD86, challenger (and beloved Sister District friend and ally!) Irene Shin spent less on digital ads than incumbent Democrat Ibraheem Samirah, but ended up winning narrowly.
Sister District Alums
It was an important night for the progressive pipeline in Virginia. Here at Sister District, we believe so firmly in the power of state legislatures as leadership pipelines. As you've probably heard us say, nearly half of all presidents (and vice presidents) started in their state legislatures, along with about half of all members of Congress. And so many state legislators go on to serve in other elected offices too.
So, we were so proud to see several of our alums running for higher office in Virginia this year. And while some of them didn't make it over the finish line this time, we're proud of them for taking the leap to run and hope that they will run again. In particular, Lee Carter (Sister District 2017), Jennifer Carroll Foy (Sister District 2017), and Hala Ayala (Sister District 2019) all ran for higher office. Lee and Jennifer ran for Governor, and Hala for Lt. Governor. Unfortunately, both Lee and Jennifer came short of winning the Democratic nomination. While Jennifer had resigned her Delegate seat in January to focus on the Gubernatorial, Lee chose to run for both his Delegate seat and the Governorship, and lost in both primaries on Tuesday.
However, we are so thrilled that Hala Ayala won the Democratic nomination for Lieutenant Governor! Overcoming a crowded field of six candidates, and despite being outspent by at least two other candidates, she earned the most votes and is headed to the General Election. Hala, who is Afro-Latina, has now made history as the first woman of color to win the Democratic nomination for Lieutenant Governor, and as the first Hispanic woman on any statewide ballot in the Commonwealth.  We are so hopeful she will make history in November as the Commonwealth's first woman of color ever elected to statewide office!
In addition, several of our alums emerged successfully from primary challenges this week, including Elizabeth Guzman and Kathleen Murphy.
Now that the primaries are behind us, we can settle in to the task at hand — holding on to our fragile Democratic trifecta in November. We are thrilled to have endorsed 9 incredible candidates for the Virginia House of Delegates already, and will be announcing 3 additional candidates in just a couple of weeks. Onward to November!