2020-10-15 Political Director Dispatch
HQ Liaisons,
This is it. The last Dispatch before the election. We are SO CLOSE — and we can't let off the gas. Thank you all for pushing hard down the stretch!
The Political Director Dispatch gives a monthly snapshot of our field and fundraising toplines, insight into our political strategy and how our candidates are doing, new endorsements, and campaign and field activities are on the horizon.
I hope this Dispatch is useful! As always, let me know if you have thoughts or feedback.
Many thanks,
Gaby
IN THIS ISSUE
Field and Fundraising: Current Toplines
Field and Fundraising: Program Updates
GOTV
Thoughts about Where Things Stand
Thoughts about Early / Vote By Mail
Election Resources
Next Political Director Call – November 10 at 5 pm PT / 8 pm ET
1. FIELD AND FUNDRAISING: TOPLINES
Our field and fundraising continues to be bonkers — thank you so much for your crazy amazing organizing work!! Here are our current toplines (As of 10/13):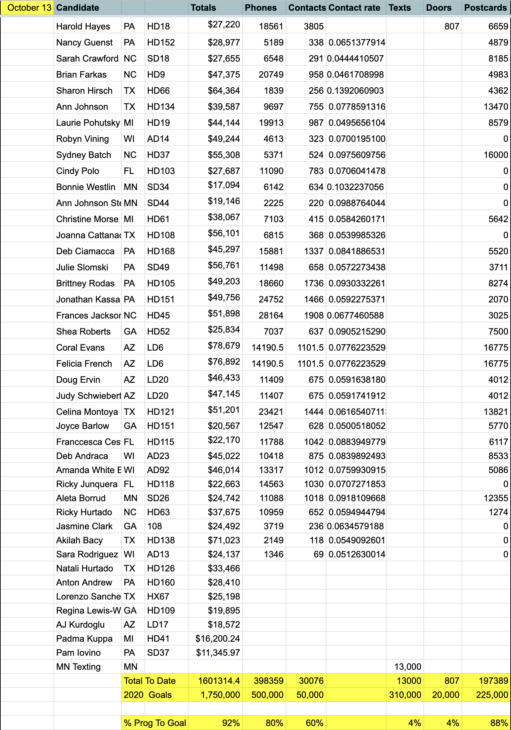 We're so far ahead this year!! To put these numbers into perspective:
Oct. 2018: we'd raised $677,000, made 97,500 dials, and sent 191,000 postcards;
Oct. 2019: we'd raised $690,000, made 138,000 dials, and sent 96,000 postcards.
Other neat stats re: fundraising and field:
62% ($992,000) of total candidate fundraising has come from teams; the remainder from HQ efforts (emails, digital/social media, website).
Contact rate for dials to date — lowest 4.9%; highest 13.9%; average 7.3%
SDP Calls as a % of Total Campaign Call Attempts: Brian Farkas – 54%; Laurie Pohutsky – 31%; Jonathan Kassa – 38%; Frances Jackson – 83%; Coral and Felicia – 22%; Franccesca Cesti-Browne – 80%
2. FIELD AND FUNDRAISING: PROGRAMS AND UPDATES
Texting
Texting for Minnesota – sign up here. Open to all vols. Weds at 4:30 CT & Sats at 2:30 CT.
Doug & Judy in AZ – Open to teams supporting Doug & Judy.
DLCC Partnership – Potential additional GOTV texting opportunities in partnership with our friends at the DLCC. If we do it, we'll use Hustle, and run as discrete events as usual. More information soon.
Dialers
We have dialers in place for a number of campaigns. An increasing number of campaigns are also using VPB Connect, which is a "powerdialer" that works directly in the VPB platform and can increase dialing efficiency.
Spanish Phonebanking
We will continue to hold Spanish phonebanking on Tuesdays at 7 pm ET. Here is the link to share with Spanish proficient volunteers who are interested in joining.
Candidate Fundraising
All ActBlue links will be switched off at 12 midnight ET on October 27.
3. GOTV
For our purposes here at Sister District, we are planning for a one-week GOTV sprint beginning October 27 through Election Day.
Our phonebanking program will remain unchanged during GOTV. You will have access to refreshed phonebanking lists through our password-protected site, and we will be obtaining metrics directly through each of our campaigns. We will not require you to track and report your phonebanking metrics to us, though you should continue to track these via your team spreadsheet, metrics dashboard or other method if it is already your practice.
4. WHERE THINGS STAND
As I mentioned in our call, Dems are going into this election in a good position to flip chambers. Things look particularly strong to flip the MN Senate, AZ House, and TX House – but that's not a prediction, just my own thoughts based on what I'm seeing on the ground. Of course, absolutely nothing's guaranteed and we will have to push all the way to the end. Many additional chambers could flip too. And beyond flips, I think that Dems are poised to pick up significantly more seats than initially expected in the WI Assembly and GA House. Those two are "dark horse" chambers in my opinion.
That last point bears repeating: while we are going after chamber flips in many places, it will be very important for all of us to celebrate where we get close to flipping, too. We have to pursue a longer-term strategy and build power over time. Getting within striking distance of flipping this year will force the GOP to the table on important issues, including redistricting and Medicaid expansion. Look at VA — Dems didn't hold either chamber when the legislature expanded Medicaid. It's because Dems were so close to flipping (1 in the House and 2 in the Senate) that we were able to force the GOP to the table. So while the prize in many states is that chamber flip, if we get close, that's going to be extremely beneficial too, and put us in a better position on policy as well as put us into contention to flip next time.
5. EARLY VOTE / VBM (AS OF OCT. 13)
As I mentioned during our call, we're seeing a huge and historic increase in vote by mail (VBM) and early vote requests and returns. There are at least three reasons why:
New laws around VBM/early vote – e.g. this year Virginia passed a raft of laws to expand ballot access and it shows – a million people have already voted in VA.
Pandemic – some states have relaxed rules around voting; many states are promoting VBM/early vote (e.g. by sending ballots to all voters in NV); fear is driving voter uptake of these options
Voter enthusiasm – in large part either for or against Donald Trump.
In terms of requests: Total of 76.2 million ballots have been requested. Of requests, 44.4% Dem, 26% Rep, 28% unaffiliated. Dems have a 9.5m ballot request lead over registered Republicans.
In terms of returns:
12m ballots have been cast (VBM and early vote).
Comparisons to 2016 are kind of useless, because so few people voted early/by mail.
Dems have returned 2.x many ballots as GOP in key states (e.g. PA; FL; NC)
It's interesting to see how many people have voted who didn't vote in 2016 (e.g., 23% in GA) — this is an important indicator of whether we are "expanding the electorate" and voter enthusiasm this year versus 2016.
E-Day will be "bright ruby red"
A note about rejections – some categories of voters are experiencing higher levels of ballot rejection. For instance, in NC – Dem ballots and Black voters' ballots are being rejected at much higher rates than Republicans and/or white voters.
At the state leg level, our campaigns either are or will have their voter refreshed daily to cull out people who have already voted. This includes the phonebank lists you are calling through. This data is now being updated daily in most of our states. This data refresh helps our campaigns reach out to folks efficiently.
6. SISTER DISTRICT – ELECTION NIGHT
We will have an Election Night Tracker, which will be a one stop shop for election night results in all of our endorsed districts. The tracker will be updated in real time starting at 7pm ET on Election Night. We will distribute the Election Night Tracker in a future HQL GOTV Field Update.
Additionally, we will be hosting an Election Night party on Zoom from 4-8pm PT / 7-11pm ET. More details will be available from the Organizing Department.
7. NEXT POLITICAL DIRECTOR CALL – NOVEMBER 10, 2020
The next Political Director Call will be after the election! It will be on Tuesday, November 10 at 5pm PT / 8pm ET. Political Director Calls are held the second Tuesday of each month. They cover any current races and political strategy, field & fundraising metrics updates, and other political/programmatic topics.
Register here; add these calls to your Google Calendar or Outlook. Calls are open to all District Captains and Affiliate leaders; these are not recorded.
Huge thanks again from the very bottom of my heart for everything each of you are doing as we head down this final stretch. It will take every single one of us, doing every single thing we can, to get over the finish line. I'm grateful that we are all on this journey together.
With gratitude and hope! Onward for 19 more days!
Gaby