2020-11-17 Political Director Dispatch
HQ Liaisons,
I hope you're all staying safe, healthy and in high spirits after the decisive election of Joe and Kamala. Thanks to many of you for joining us last week for our public Political Director call, which provided an initial debrief about our Sister District races and outcomes. Since then, our associate director of research (and Sister District North Carolina HQL!) Mallory and I have been holed up in our spreadsheets, poring over the data and analyzing the results in more detail. The fruits of those efforts are in this post here, released yesterday. Also included in this Political Director Dispatch are final—and amazing—field and fundraising toplines for 2020.
I hope this Dispatch is useful! As always, let me know if you have thoughts or feedback.
Many thanks,
Gaby
IN THIS ISSUE
Post-Election Analysis: Two Blog Posts
Field and Fundraising: Final 2020 Numbers
2020 Impact Report – Coming Soon
Next Political Director Call – December 8 at 5 pm PT / 8 pm ET
1. POST-ELECTION ANALYSIS: TWO BLOG POSTS
The 2020 state legislative elections were surprising, and did not deliver all the wins we had hoped. I've released two blog posts that analyze the results, and our work at Sister District, in some detail.
2020 Election Results: Early Analysis – This post includes some of our incredible 2020 Sister District topline field and fundraising numbers and impact. It also includes an analysis of the broader political landscape and election results, including the impact of early/absentee vote, some early thoughts about the impact of gerrymandering, the pandemic, impact on redistricting and the importance of local organizers in the ecosystem.
**NEW** State Legislatures in the 2020 Elections: What Happened? – This post, out today, provides a quantitative analysis of three possible groups of explanations that may have contributed to state legislative outcomes: gerrymandering, roll-off/ticket-splitting, and enthusiasm/awareness gap. Note that this analysis aims to describe what happened, but not why the outcomes occurred.
2. FIELD AND FUNDRAISING: TOPLINES
Our field and fundraising continues to be bonkers — thank you so much for your crazy amazing organizing work!! Here are the final toplines for 2020: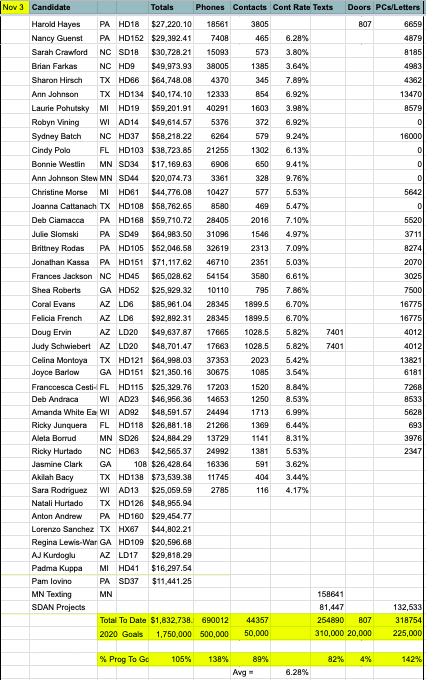 3. 2020 IMPACT REPORT
We're hard at work on our 2020 Impact Report, which we plan to release in December or early January.
4. NEXT POLITICAL DIRECTOR CALL – DECEMBER 8, 2020
The next Political Director Call will be Tuesday, December 8 at 5pm PT / 8pm ET. I'll be going into our quantitative analyses in more detail and will provide additional debrief from the 2020 cycle and a look ahead. Register here; calls are open to all District Captains and Affiliate leaders; these are not recorded.
I hope you are all off to a great holiday break next week. If you have any questions about the materials and info above, please don't hesitate to reach out to me anytime. Thank you so much again for your committed and important work this year! We're on a long journey together to build progressive power in states, and I hope that you find being in community together to be as inspiring and nourishing as I do. To borrow from a wise woman, onward together!