2020-8-17 Political Director Dispatch
HQ Liaisons,
We're always eager to try new things and experiment here at Sister District, so we're going to try something new — a monthly Political Director Dispatch to our HQLs.
This Dispatch will give a monthly snapshot of our field and fundraising toplines, insight into our political strategy and how our candidates are doing, what new endorsements, campaign and field activities are on the horizon, and perhaps a bit of commentary about what I'm seeing on the ground with our campaigns and the larger political landscape.
I hope this Dispatch is useful! As always, let me know if you have thoughts or feedback.
Many thanks,
Gaby
IN THIS ISSUE
Endorsements: Wave 3 + Wave 4
Field and Fundraising: Current Toplines
Field and Fundraising: New Programs Coming
Special Topic: Polling Basics
Polling Insights From Our Districts
Mid-Cycle Evaluations + Campaign Feedback
Next Political Director Call – Sept 8 at 5 pm PT / 8 pm ET
1. ENDORSEMENTS: WAVE 3 + WAVE 4
Folks, I thought we were done with 2020 endorsements after Wave 2 in June. But your field and fundraising work has been nothing short of incredible — so we have capacity to endorse more candidates!
We launched Wave 3 with 4 new endorsements on Aug 12 – in WI, NC, TX and GA. I'm so excited about these candidates and thank each team who has sistered up with these folks for stretching your capacity to take them on!
We are planning a small Wave 4 for early Sept. We are likely going to be fundraising for these folks only, and not sistering them to particular teams. But but but! If you have any capacity at all, for a little field, or a one-off fundraiser, please let me know! These endorsements will be a bit like our Mississippi endorsements last year – mostly fundraising and candidate services, but absolutely open to all teams for a little field and fundraising love if you have capacity.
2. FIELD AND FUNDRAISING: TOPLINES
Our field and fundraising has been absolutely incredible — thank you so much for your incredible organizing work!! Here are our current toplines (As of 8/11):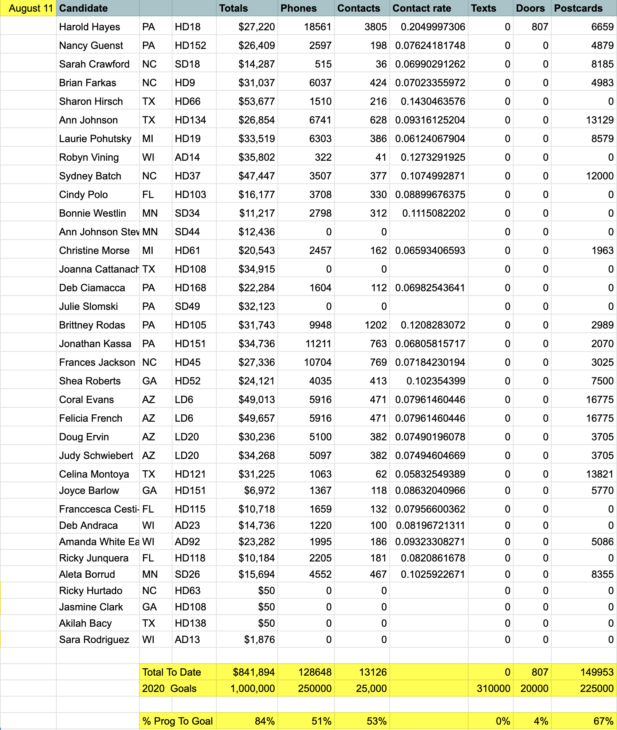 We're so far ahead this year!! To put these numbers into perspective:
Aug. 2018: we'd raised $337k, made 63k dials, and sent 114k postcards;
Aug. 2019: we'd raised $429k, made 61k dials, and sent 80k postcards.
3. FIELD AND FUNDRAISING: NEW PROGRAMS COMING
Texting – As is the case each year, the availability of texting for our candidates will vary. As of right now, most of our campaigns do not anticipate need texting support from us at Sister District. That may change in the future, and we'll keep you all updated. In the meantime, we will be exploring texting opportunities for our volunteers with caucuses and state parties, similar to our texting offerings in 2018.
Dialers – We are working with our candidates to get autodialers in place where possible. Dialers require at least 5 callers on at the same time for a good user experience, so we will likely ask our campaigns to turn them on when you are having phonebanks. So, please make sure you're using the phonebank notices form so we can understand your capacity.
Spanish Phonebanking – We are piloting a Spanish language program, planning to launch with our first Spanish language phonebank on Sept 1. We are recruiting Spanish proficient volunteers until Aug 21 – please distribute our sign up form to your teams! We are looking for at least 10 more volunteers to kick off this pilot.
4. SPECIAL TOPIC: POLLING BASICS
We are starting to get polling back in our sister districts. Here's a super quick overview of how polling works:
A few hundred (e.g. 400) likely voters are contacted typically by phone ("live dials") over a period of 2-3 days.
Pollster asks: "If the election was tomorrow, would you vote for D or R?" This is called the "generic ballot."
Pollster then asks: "If the election was tomorrow, would you vote for Democrat Alex Askew or Republican Rocky Holcomb"? This is called the "initial ballot" or "named head to head." In some ways this is a test of name recognition. This is the "baseline."
Then pollster gives 'messaging' about both candidates, telling the voter a little bit about what each candidate is running on and their bios.
Then pollster asks: "If the election was tomorrow, would you vote for Democrat Alex Askew or Republican Rocky Holcomb?" This is the "final ballot" or "informed ballot." The final ballot is a test of how good the messaging and/or candidate's biography talking points are for the district. If the messaging doesn't move voters much, the messaging or bio is not great and campaign should figure out better messaging. If the final ballot numbers are much stronger than initial ballot/baseline (which is what we like to see, unless the initial ballot is already super strong), then it's a matter of the campaign making sure to get that message out. It is a measure of, IF the campaign was able to get its message out to voters, how would they vote?
Keep in mind: margin of error for polls usually 4-5%. Caveats – there may be bias in terms of who answers phonecalls and is willing to talk to a pollster. Also, keep voter suppression in mind – just because someone says they would vote a certain way on a phone call doesn't necessarily translate into turnout.
5. POLLING INSIGHTS FROM OUR DISTRICTS
Remember: Campaigns hold polling data confidentially unless the candidate is shown to be way ahead. Even then, the campaign may not want to disclose polling because of a fear it may actually depress turnout if people think that it's 'in the bag' or depress volunteering for the same reason. It's important to understand that.
For many of our campaigns, the 'final ballot' currently shows our candidate ahead, typically within the margin of error (within 5 points). Remember that these final ballot numbers just show what is possible IF the campaign does all the voter contact work necessary to get its message out. We still have work to do in all of our districts! For a smaller number of our campaigns, our candidates are ahead in the 'generic' too – almost all within the margin of error, meaning things could really go either way at this point. There are a few outliers where the polls show that the campaign has to go back and find better messaging or more resonant biographical details.
Another good sign for our candidates is that Biden is polling well in most of our districts. Again there are a few outliers, where Biden is underwater a bit. But overall, Biden's polling performance is good news, as it's an indicator of voter enthusiasm and can portend strong turnout.
Many candidates or their caucuses will do a 'tracking' poll in a month or more, to see if the baseline has improved – in other words, to go back into the field and see if the campaign has done the hard work of getting its message out to voters. Our voter contact work is super important ahead of these tracking polls!
I haven't seen polling from each of our campaigns yet, as some are still in the field or just coming in. Bottom line — we are in important, competitive races this year! Feel free to contact me over the coming weeks if you're curious about anything else I can share about your candidates' polls. Here are a few details that I can share:
TX – The TX House is in play! Celina and Joanna are currently ahead in the generic. Joanna's polling shows her 5 points ahead, and Celina's shows her 7 points ahead. Both of them released these excellent results publicly.
PA, NC, AZ – Many of our folks are up in their polls, but within the margin of error — meaning the election results could go either way and our voter contact work will be extremely important! If you're looking for where to allocate your time/energy, a few folks in super competitive races who have great paths to victory and can especially use your support right now would include Doug Ervin, Frances Jackson and Brittney Rodas.
6. MID-CYCLE EVALUATIONS + CAMPAIGN FEEDBACK
Every year, we send out a mid-cycle evaluation to our candidates and their staff, to get feedback about how we are doing. No surprise, as usual, our org and volunteers have received very high marks!
How satisfied are you with Sister District's fundraising support for your campaign? 9.74/10
How satisfied are you with Sister District's field support? 9.0/10
How satisfied are you with the Sister District volunteers you've encountered? 9.8/10
Some nice quotes from our candidates and campaign managers:
Sister District has really provided a support system during what is a difficult time to campaign. They have helped us engage volunteers and donors that we otherwise would not be able to in creative and innovative ways.
Running in a rural area, it's really validating to have the extra support. Thanks for helping this candidate feel like I'm not on an island.
Sister District Project's volunteer and fundraising capacity is stellar! In addition, the support of your chapter members, and the expertise and professionalism of your SDP HQ team, is a key value-add to our campaign.
7. POLITICAL DIRECTOR CALL – TUE. 9/8
The next Political Director Call is on Tuesday, September 8 at 5pm PT / 8pm ET. Political Director Calls are held the second Tuesday of each month. They cover any current races and political strategy, field & fundraising metrics updates, and other political/programmatic topics.
Register here; add these calls to your Google Calendar or Outlook. Calls are open to all District Captains and Affiliate leaders; these are not recorded.