Sister District Sacramento's "Phonomenal" Phonebankers!
Linda Noland's story of building a group of phonebanking "Phonomenals" during 2020 reveals key themes and best practices related to running a great phonebanking program. These include:
A recurring phonebank with set day(s) and time(s) is a foundational must for growth!
Design your program (schedule, promotion and debriefing strategies) and your individual phonebanks (check-ins, have an active Zoom chat) with a focus on creating community, connections, and friendship
"Open the hood" at every opportunity to educate volunteers on how their work helps a campaign win, and to keep everyone focused on the many successes to be had (e.g. "finding a wrong number is a phonebanking success, thank you! Here's why…"
Run as efficient a phonebank as you can. If callers feel that your intention was to make the most of their time and energy, they're far more likely to come back and invite friends.
Set goals, make progress tangible & public and celebrate it together! (scroll down to see the epic dial thermometer)
The following is Linda's story of her 2020 phonebanking team that started small in February but over nine months of recurring phonebanks created a tight community that learned together, set goals, celebrated progress and grew into a powerhouse!
---
By Linda Noland, Sister District Sacramento Phonebank Lead
A remarkable and wonderful thing happened in 2020. A group of people, relatively unknown to one another, summoned their courage and became political activists. They set aside their trepidations and allowed themselves to transgress their comfort zones and join the Sister District Project (SDP) Sacramento Chapter's first ever Phone Bank. Over a 9month period, the group evolved into a highly effective force that significantly contributed to the re-election of Laurie Pohutsky and election of Christine Morse, both candidates for the Michigan State House.
In reflecting on the timeline (February 8th thru November 3rd) and the challenges that we encountered as a new and inexperienced group, it became clear to me as the Phone Bank Lead that many factors contributed to the success of the group and, by virtue of that, the success of the two campaigns.
Initially, it seemed that learning about and practicing the art of phone banking as early in the year as possible was imperative. Thinking that a candidate would not be assigned our chapter until Spring, a decision was made to participate in the efforts of Flip The West which was actively involved with the Arizona Wins projects to inform Arizona Independents of the need to register with a political party in order to vote in the mid-February State Primary. Eight people, including four chapter planning committee members, met in person Feb. 8 for our first Phone Bank. We struggled with our equipment, the script, creating Action IDs and OVPB accounts and accessing the phone bank. A total of 82 dials were made that day. Was that a good number? No idea. Four of us would continue together for the entire 9months.
By early March, we had added by personal invitation an additional two people (Jan and Clara) and were making 200-300 dials each day. Then came COVID, the end of our in-person sessions and the adventure of learning a new way (Zoom) to do our work. During the month of March, it became clear to me that this small group of six had the necessary attributes to sustain the core mission of phone banking in general and to support the expansion of our Chapter's Phone Bank. The group expressed a common commitment to change the political landscape "from the bottom up". They were independent thinkers who investigated the information provided and were willing to share and discuss that information. They were patient and understanding of our collective struggles with the technology. More than once did I hear "Oh yeah, I did that too" or "that happened to me". This generous attitude toward one another continued throughout our time together. Trusting in this, I asked for a commitment of weekly phone banks and the group decided on Wednesday afternoons 2:30-5:00. I was impressed that they were willing to give up a whole afternoon, but the rationale for my request came from my own uncertainties over exactly how a Phone Bank functions.
On April 8th 2020 THE WEDNESDAY GROUP or THE PHONOMENALS as we would come to call ourselves, arrived. We would continue to work with Flip The West/Arizona Wins for the next five weeks until our first SDP Michigan candidate, Laurie Pohutsky, was assigned. During this time, we added six new people: Caron and Mary by personal invitation, David, K.C., Wendy and Pat through Mobilize. They too had the same qualities as the original 6 and fit right in with the group: five would remain until the end. Concurrently, the Chapter captain, Phyllis Cauley, worked on outreach to potential new phone bankers, created messages for posting the Wednesday event, developed a training slide deck and connected with Ms Pohutsky's campaign staff to arrange for her introduction to the larger Sacramento SDP membership.
May 13th was our first Sister District Virtual Phonebank (VPB), for Ms. Pohutsky. Eight people attended and were trained on the script and logistics of accessing the phone bank. As we had been leaving voice messages for the Arizona Wins projects it was a shock that this was not part of the Pohutsky campaign. It was a downright obstacle for some: one member stating that "If I can't leave a voice message, I'm done". It was the first evidence of a chink in our group's commitment to do this work. Yippes I thought! But true to form, the group ventilated, discussed, problem solved in a civil manner and democratically decided that a sample voice message be drawn up and presented to our campaign liaison Oscar Tu. This was done and approved.
Despite this, issues continued to arise. The group's inquisitive nature, arising from the need to "do a good job" demanded certain information: what was the purpose of this work, how did it fit into the overall strategy of the campaign, how was the data used, where did the call list come from and who were the targeted voters? Clearly a response was called for and over the next two meetings Neal Morgan (Head of Organizing) and Oscar Tu separately attended to talk about and discuss these concerns. In addition, Information regarding the importance/value of phone banking was gleaned from the SDP/HQ Resource library and presented to the group at the last Wednesday PB in May. Only 123 dials were made that day by 10 callers but the response of the group was invaluable.
Multiple times group members commented on being "listened to" and "getting the information we needed". Later Nora would state: "What I've found is that my experience with the Sister District team is that they're very organized, I get the tools I need to feel successful and I have someone I can go to with questions. They are present and supportive. What makes this effective vs. other progressive groups is good training, good support. It's really critical for people just jumping in". And K.C. would add, "You, Linda, as the leader contributed to our group knowledge (by seeking answers and encouraging the group to share their ideas) and the group cohesiveness through your encouragement, acceptance and hard work. As far as I'm concerned, you personally motivated me. It was a pleasure to be a part of this effort".
During the Month of June, we gained about 1 caller a week. Some came and went. Maggi, Claire and Ilona committed and stayed to the end. News to us that an initial goal of 7,500 dials had been established our Chapter Captain set about a discussion for the first time of what we thought we could accomplish. As we had barely reached 2300 calls since February and were struggling to understand our task and work with the script, this goal seemed HUGE. But group members continued to persist, adapt and support one another. And our chapter captain did the same for us in terms of posting our events, streamlining the registration process and facilitating easier zoom accessibility. With a better understanding of the purpose of banking and the encouragement of Neal, we stopped leaving voicemails and adopted his notion to "dial like the wind". K.C. responded to this stating "What brought me in was wanting to change the state houses to fight gerrymandering. But one thing that has kept me going is when people like Neal have joined in and told us about the benefits of things like cleaning the list and why that's important. With that background knowledge, you know how finding a wrong number makes a difference". And David added, "One thing I never thought of was cleaning up the data for the campaigns. I phone banked for Obama but it was never explained to me what success looks like. Sometimes it is discouraging how few people I talk to. I've enjoyed the group, it's great!"
A void of sorts was created by not leaving a voice message as we had no concrete measure of our work at the end of the day. Our resolution was a new data set: tracking non-viable numbers which would establish our progress in "cleaning up the voter list". It helped. By June's end, our weekly numbers were in the low 600s. With 20 weeks to go until the election and 4500 dials under our belts, we began to consider a goal of 10,000 dials as a real possibility.
It was fortuitous that the original group agreed to 2 ½ hour weekly phone bank sessions as, over time, it would create a safe space for us to discuss the issues raised by the work, points of view, formulate solutions and "virtually" develop caring friendships. Caron would remark "I agree with Jan, the supportive and caring environment was a huge factor. We were made to feel we were part of a "team". I particularly appreciated the weekly reminder emails with the link. Also, a huge factor for me was the Zoom aspect. I am not sure I would have personally been coaxed to meet people I did not know at various homes in the county each week. It was hard to find an excuse to NOT walk down the hall and log into the weekly meetings".
The DOG DAYS OF SUMMER struck in July and August. It was blistering hot in Sacramento with days of extremely poor smoky air quality due to fires. The National response to the death of George Floyd, and other Black individuals, and the attending protests as well as the COVID surge and the poor response to both by the Federal government continued to exacerbate anxieties over personal and collective safety of our county and our group. The group, now 12 regular members, responded to a few new things and was able to assuage this period of fatigue. The Michigan Primary was scheduled for August 4th so we invited Ms Pohutsky's campaign manage to a session asking him for an update on the campaign and the impact of our contribution.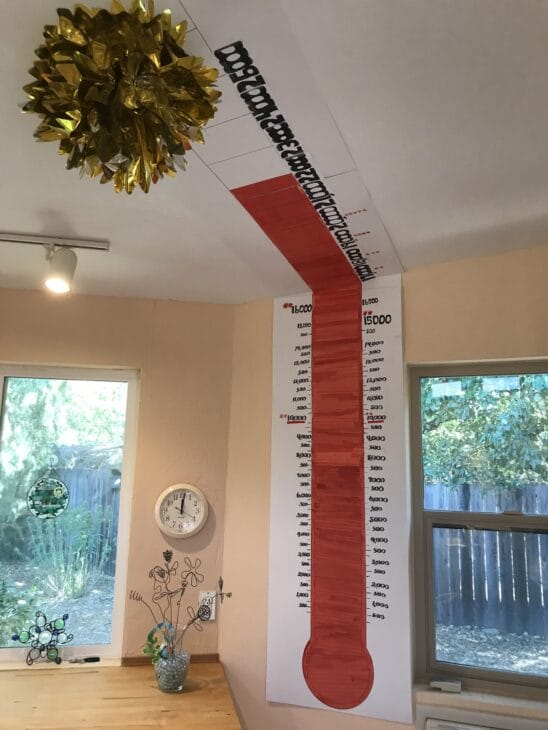 A large "Thermometer" poster was placed on the wall to provide the group a visual of our progress. The group was informed that each member's individual dial counts were being tallied to which Ruth would later respond "For me when Linda said let's keep track of how many calls we make I wasn't so sure. But it was amazing to see that we reached a goal last week! Adding something like this in a phone bank helps me stay motivated". All along, we continued to use, at minimum, ½ hour of our weekly session to share our thoughts, perspectives, feelings, personal stories and coping techniques with each other deepening individual connections and the solidarity of the group. Claire captured this when she said "This is my first time phone banking. I've been coming to this PB since early June. I come back because of the connection I have with all these great people I've met and, also my children and grandchildren are Black people and I want to do whatever I can to keep them safe."
We persisted and by the end of our August 12th session we accomplished our first goal of 10,000 Dials. A celebration ensued with music, videos, party hats and "pats on the back all around". Being somewhat in awe of ourselves, Maggi suggested that we "go off the chart". As the thermometer poster reached the ceiling at 17,000 dials we would have to continue it across the ceiling: a lofty goal but now dialing in the 800-1,000 range each week, we were energized and "on a mission". We ended the month with over 12,000 dials.
September brought an infusion of new callers as the election loomed. Michele, Cynthia, Kelly and Joanna joined us and remained for the last two months. In addition, a group of 12 young women University students joined us mid-month bringing our average group attendance to 15 though at times we had over 20 callers. The students came in to satisfy a class requirement of 15 hours of volunteer activism but most surpassed those required hours because the group engaged them through sharing personal experiences and accepted them as important participants in the SDP mission. Many of the students stated that they were "inspired by the group's commitment and passion for change". These young women were also impressed that the group expressed a hopefulness in them as a future force in determining the course of the country. We had just lost an icon American icon: Justice Ruth Bader Ginsburg.
In October, four members of the Chapter Planning Team returned to the group having completed their tasks of fundraising and post carding. Together with our regular Wednesday Phonomenals and a few new people our weekly Wednesday Phone Bank averaged 1600 dials each session.
This month SDP turned its focus to GOTV and our Sacramento Chapter did the same. The commitment of the Wednesday group was such that nine members agreed to be trained to facilitate running 2hr shifts over our planned 3day GOTV effort Oct.31st – Nov.2nd. All were successful in this endeavor; another example of their openness to try new things and comfort in working with each other.
The last regular day for the Phonomenals was October 28th during which we surpassed the 25,000 dial mark; the students having contributed 2,500 dials over their six weeks with us.
The GOTV weekend added another 2800 dials and we finished with a total 28,383.
In the end, Laurie Pohutsky was re-elected by 254 votes slightly more than her first run for office. Sister District Project phonebankers around the nation dialed 40,291 voters for the Pohutsky campaign. Our Sacramento Chapter Wednesday group made over half of those calls, recording 21,000+.
The collective intent to carry out SDP's mission of impacting state legislative elections, in this case a Michigan State House election, was indeed a lofty goal for this group of novices and its realization was remarkable. In addition, the commitment, cohesiveness and caring of this "Phonomenal" group of people made it all the more wonderful.