How to Guide: Social Media Lead
From Facebook to Twitter and Instagram, social media is a great way to interact with current team volunteers, broadcast important updates and upcoming events, and even meet new volunteers to bring to the team! If you're new to social media, Sister District Director of Communications Lyzz Schwegler suggests starting by getting comfortable with one platform and then branching out.
The Social Media Lead is one person (for most teams) who does the following:
1. Join the Social Squad!
When signing on to lead your team's social media, the first step is to join the Social Squad led by Social Media and Digital Manager, Tifrah Akhtar!
By joining the Social Squad you'll have access to:
An updated SDP HQ communications guidelines
Opportunities to amplify your team's programs and volunteer stories
Social media drafts and templates for your own social media accounts
2. Update Team Facebook page
Facebook can be a great tool for facilitating conversations, additional event reminders and quick updates from HQ
Post ideas include:
Important, broad messages from HQL updates
Reminders about phone banks, meetings and fundraisers (note: Facebook responses ≠ RSVPs!)
Share endorsed candidate posts — keep the team updated on what is happening on the ground
Anything you can think of! Get creative! Photo contests, polls and meme contests are always great ways to boost interactions!
Please add Communications Director Lyzz and Social Media and Digital Manager Tifrah as administrators on your page to enable easy cross-posting. If you don't know Lyzz's and Tifrah's email address, contact support@sisterdistrict.com
3. Create and manage Twitter and Instagram accounts
Instagram is great for sharing infographics and photos from team gatherings (i.e. phone banks, fundraisers and canvassing trips). Similar to Facebook, Twitter can be used for quick updates & sharing endorsed candidate information!
Twitter suggestions from Sister District Sacramento Social Media Lead:
Twitter is intuitive and you learn best on there by doing. Get engaged, comment on tweets, like and retweet others, all while staying on message, and you'll be a helpful asset for your local chapter and the group as a whole. My tips are:
Start with following Sister District Project on Twitter because you can like and retweet what SDP already puts out there. And you can see who SDP follows for ideas of who to follow
You can subscribe to this list, which is a way of seeing what all the SDP chapters and founders are tweeting. Click Subscribe, then to view those tweets in the future: from your phone's twitter app you can swipe right to open options, and click on "lists" to view. You could also click on 'members' and follow each account individually.
Use hashtags in two ways: first way – search by hashtags like "#BlueWave" for example, to find like-minded accounts to like/comment/engage with, but more importantly is the second way – use hashtags in your own tweets to help garner attention to them (once again, SDP's twitter account is a great model for which hashtags to use).
Bonus tip: use the hashtags that are trending that day (you can see those along the right side on a computer or in the search tab on the bottom on your phone's app [w/ the magnifying glass icon]) –finding clever ways to incorporate those trending topics/hashtags in your SDP-related tweets will get ya even more visibility.
4. Capture photos & videos from meetings & gatherings – – whether in-person or virtual
One of the best ways to recruit new volunteers is to show folks all the fun we're having here at Sister District while leaving our political impact! This content can be shared on social media platforms and included in emails.
5. Monitor accounts & platforms for rude, crude & suspicious activity
More specific guidance on this to come later! However, if you see or experience any trolling comments or "bot"-esque response, please delete or take their comments down & report it to your Organizing Manager or Lyzz, Director of Communications!
Pro Tips!
Accessible Social Media: Alt Text!
How to make your content accessible: add alt text. Alt-text is a written copy that helps describe an image. This text helps screen-reading tools describe images to visually impaired readers and can boost your reach.
Instagram
On the screen where you write your caption, go to "advanced settings". Then tap on the "Accessibility-Write alt text section". On the next screen, you will see the image and a text box. Alt text doesn't have to be complicated. For example, "Sister District candidate X wearing a blue shirt and glasses. They are looking at the camera and smiling in front of a white building".
You can also add alt text to previously published Instagram posts by clicking the three dots on a post and tapping the "edit" option.
If you schedule your post on Instagram with a scheduling tool, you can't add alt text this way, but you can add alt text to the bottom of your caption. Sister District NYC does a great job at this!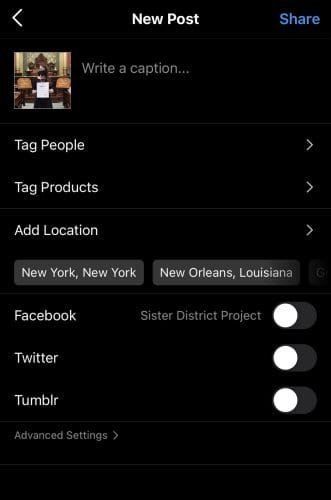 Twitter
On Twitter, click "Add description." Similar to Instagram, you can write out your text and click save. Unlike Instagram, you cannot add alt text to Twitter pictures later, so be sure to add it before you send a tweet.
Facebook
Facebook auto-generates alt text! If you would like to check on the alt text or change it, follow these steps.
30 minute Engagement Hack!
Set a timer for 30 minutes. Spend the first ten minutes engaging in your feed. Scroll through your feed and like posts, and leave meaningful comments that can start conversations or connections. For example, leave a comment on Fair Fight Action's newest post: "We love this organizing tactic! Keep up the great work!"
For the next ten minutes, engage in stories! Click through and reply to people's stories, either by sending a comment or an emoji reaction. For the last ten minutes, engage in hashtags you are using. For example, if you use "#bluewave," tap on it and go to "recent posts." Once you've found posts with similar hashtags, go like and comment on posts that grab your attention. Plus, look at the hashtags they are using so you can have some additional hashtags.
Reposting!
In a time crunch but feeling the need to post? Repost HQ content!
Simply share an HQ Facebook post onto your team's Facebook page or use the Repost app (Apple, Android) to repost a photo from the HQ instagram or one of your endorsed candidate's instagram accounts! Quick & easy way to keep your social media engagement up!