How To: Mobilize
Table of Contents
Introduction
Mobilize is Sister District's tool to track event RSVPs, track registrations, confirmations, and cancellations, and receive feedback from events. It makes it easy for your volunteers to sign up, and it's become the default for progressive organizations and campaigns. Everyone from Biden to Sierra Club to New Georgia Project to Moms Demand Action to small volunteer grassroots groups use it.
Mobilize integrates with Action Network, our new volunteer management database + email + text system, in the following ways:
Those who sign up for an event who are not already Sister District volunteers will be added automatically in our database, Action Network, to the lists of the team matching their zip code area and (if different) the team hosting the event they signed up for.
Volunteer records in Action Network will be updated with tags from Mobilize. This means no manual updating or uploading to reflect knowledge between organizing tools! For example: if Kate signs up for your Mobilize phonebank event and you've tagged the event as a phonebank, Kate's record in Action Network will include a tag related to phonebanking. You will then be able to email a list of all people on your team with a phonebanking tag and Kate will be included.
Additional advantages to using Mobilize include:
If all Sister District teams use Mobilize and tag events by candidate and event type, we all can much more easily find each other's events, send volunteers to other teams' events, cross-promote events, and co-own partnered events.
Your events can show up in lists of upcoming events on SDP website
We will eventually be able to integrate your Mobilize event feed into your Team Page on the Sister District website
Mobilize has automatic SMS and email confirmations, reminders, and feedback requests. You can turn them off or on and customize.
The following is intended to provide high-level information about how to use the Mobilize system and links to Mobilize help and tutorial resources. If you have any questions, please contact your Organizing Department staffer!
Getting Started
HQ has invited one team leader as an "Administrator" for your team's Mobilize account. Those assigned as Admins have full use permissions on the account: they can create and edit events, view and export all registrant data, and invite other leaders on your team to use the account.
If you're an admin for your team, please see this Quick Start Guide for Admins
Using Mobilize Support
Mobilize provides guides, trainings, help pages, and a customer service support desk. We think their materials and support are quite good. If you have questions, we recommend investigating what Mobilize has to offer from these support options:
If you don't find the answers or the help you need, always feel free to ask your Organizing Department staffer.
Logging in
Mobilize does not use passwords. Navigate to your Dashboard by going to mobilize.us. When you click "login" at the top right corner of the screen, you will be prompted to request a login link. You should select "Get a magic link" then you will be able to login using the link sent to your email at that time. Periodically Mobilize will send you this prompt but you will generally stay logged in from session to session. Access your Dashboard by clicking "Menu" then choose your team Mobilize page from the options.
Adding Other Leaders to Manage Your Mobilize Account
Admins may decide to add additional leaders of the team to manage your Mobilize account. Mobilize refers to individuals granted any of the four permission tiers as "Dashboard Users". Admins can invite leaders at different permission levels: Administrators, Organizers, Trusted Hosts, and Hosts. We expect that you'll want to add other leaders as Administrators. You may want to consider adding someone as an "Organizer" but the difference between Administrators and Organizers is as follows: an Administrator is able to edit any event in your dashboard and can invite other leaders to manage the account. An Organizer can only edit events that they are owners of within the dashboard, and cannot invite other leaders to manage the account.
What are the differences between permission tiers?

Administrators are able to view and edit all events and volunteer data and add additional users to the team's Mobilize account.
Organizers are able to create, edit, and remove their own events and view all volunteer shift data. Example: you may want to add someone as a Organizer who will be running a recurring phonebank or postcard party

NOTE: in order for another user to edit your dashboard, they must have an "Admin" role
Creating, Editing, and Removing Events
Once you have access to creating events on your team's Dashboard, you can create one-time or recurring events.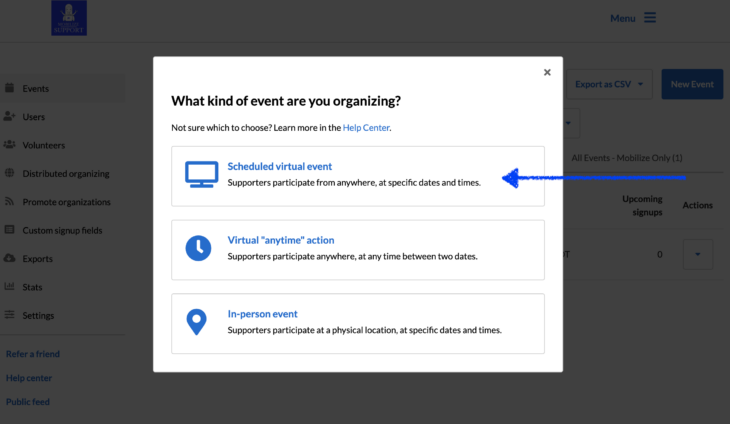 Type & Tags
Type and Tags increase the ability for staff, other team leaders, and volunteers not already looped in with us to find, promote, or sign up for your events.
Event Type is incredibly valuable! It's important for searchability, but here's the really cool thing: when someone signs up for one of your events in Mobilize that has been classified as one of the below Event Types, the event Type will automatically be applied to that person's record in your volunteer database, Action Network. This integration means that you will then be able to send an email directly to, say, anyone who has ever signed up for your phonebank, or everyone who has ever signed up for a fundraiser. Think of the possibilities!
Please use the following event Types:
Phone Bank
Text Bank
Canvass
Letter Writing – Use this for Postcarding. "Postcarding" tag will be applied to records in Action Network
Fundraiser – Try to use this for any public event not focused on voter contact.
Meeting – Use for team meetings (might include trainings that have no fundraising component)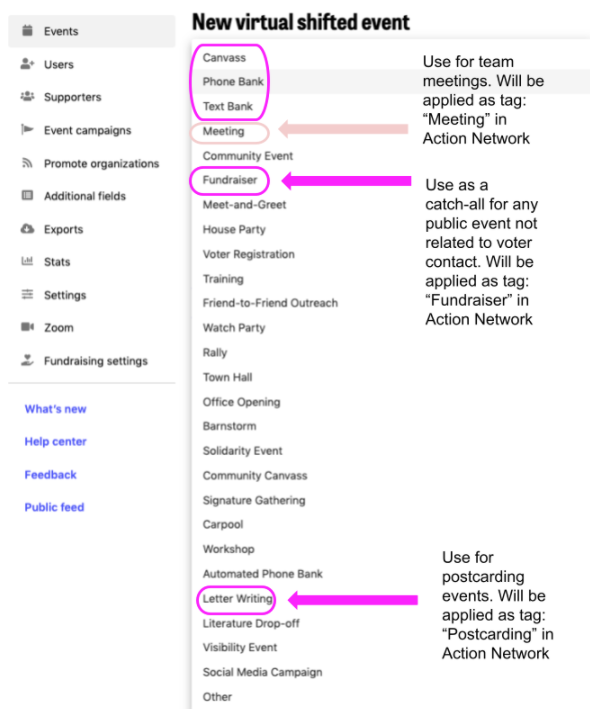 There is also space to create Tags. We encourage all Sister District Mobilize administrators to let event Type do most of the work for you in terms of applying helpful information to a volunteer's record, but it will be useful to use tags for the following specifics to help folks search for your events:
Candidate(s) supported. If applicable. Use full name First Last e.g. Jasmine Clark
Organization(s) supported. If applicable. If you're raising money for HQ, your tag could be Sister District Project. If you're raising money for one of our State Bridges partners, you would tag with their full organization title.
Tips for Creating and Editing Events
Notes on creating Zoom links for Mobilize

Do not use Zoom Registration links in Mobilize

. Mobilize makes Zoom Registration links a thing of the past!
Check the Passcode box for Security. The link you'll share in Private Details in Mobilize will have the passcode embedded at the end of the Zoom link URL
In your Zoom settings, we suggest to toggle OFF the setting to require those dialing in by phone to type in the 6-digit password in order to join the call.

To be extra safe re guests asked to punch in a Zoom password, you can include the 6-digit Zoom password in the How To Prepare box of the Add Video Call Information section – see below
See Mobilize guidance here: How to Host Events on Zoom and Video Conferencing Platforms
See Sister District Zoom Guidance for more information on setting up the Zoom meeting

"Visibility" allows you to create "Public" events that are discoverable by anyone on your feed, or "Private" events that can only be accessed by the link directly. A "Private" event might include a planning meeting for leaders; only those who are provided the link can sign up, add to calendars and get the Zoom link.
Use "Markdown" to format text in the Event Details boxes. See guidance here: Using Markdown in Mobilize
"Event Description" is where you add any promotional copy and public-facing details
"How to Prepare (Private Details)" is where you add anything that might be useful to the attendee to join or prepare for the call. We suggest do not add your Zoom link here. Your Zoom link goes in the "Add Video Call Information" (described next). A link to the candidate dossier for your phonebank might be something valuable to add here. This is what Sister District included in How to Prepare for the State Bridges event series: Please add to your calendar, and make sure to check the timezone so you join at the correct time!If prompted by Zoom, use this passcode: 538517 Providing the Zoom event 6-digit passcode should not be necessary if you have, as described above, turned off the requirement for those joining by phone to enter the passcode. But you can add the passcode here just in case.
"Add Video Call Information" is where you add your Zoom link(s)!
Event Graphics sized for Mobilize can be found in the Event Graphics for Mobilize folder in the Sister District Image & Asset Library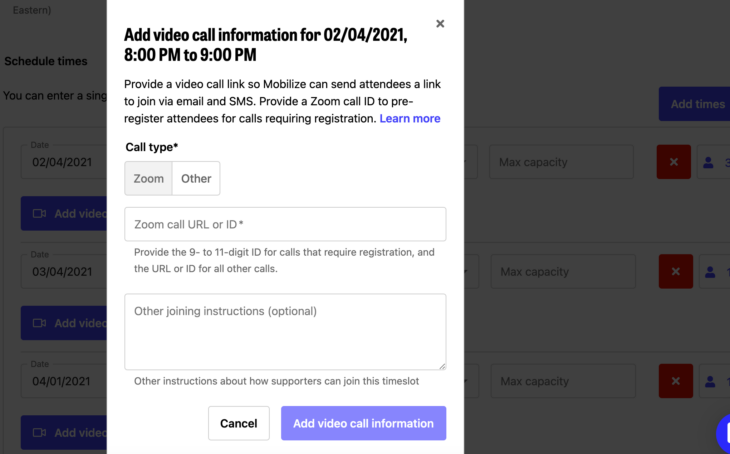 One-Time Virtual Events
See: How to Create a One-Time Virtual Event
One-Time Virtual Events will likely be for fundraisers, special events, and one-off team meetings.
For more on how to use Mobilize for Virtual Fundraising Events, please see the Fundraising Guide.
Important Note! One-time events are not appropriate for recurring events like weekly phonebanks and postcard parties. You want one event page for each type (postcard program, phonebank program), and you can add and edit individual dates as "shifts". See below.
Where do you add your Zoom link for an event with one shift?
When you "Add times," click "Add video call information" for your shift.

Recurring Virtual Events
See: How to Create Recurring Virtual Events
Recurring events — e.g. "we phonebank every Sunday at 11am!" — are essential for creating connected and growing communities for voter contact activities like weekly phonebanking or postcarding. In 2020, the single most important structural feature responsible for 3x growth in Total Dials from 2019 to 2020 was that all teams' phonebanks were recurring — they were held on the same days/times weekly or twice-monthly. We had 48 recurring phonebanks in our system deliver 708,573 Total Dials for our candidates! Mobilize is excellent for recurring events.
Every team running recurring voter contact events should create one recurring event page for each type of voter contact. Each phonebank is a different "shift" on that event page. In other words, you will have one single page for phonebanking, and one single page for postcarding. All individual dates in your phonebanking program would be created, edited, or added as "shifts" on your single Mobilize phonebank page. Same approach with your postcarding program.
The advantages are big: you'll have one single page — and importantly, one single URL to promote — for your phonebank program ALL YEAR! You just create, edit, add, or remove "shifts" or individual phonebank dates but the link you use to share in your emails and texts to recruit volunteers always stays the same.
If your team has a recurring leadership meeting (perhaps monthly), we encourage you to create a recurring PRIVATE event in Mobilize for your leader meetings. Setting the event to private will mean that only those with the URL will be able to sign up; the event will not be searchable. Each meeting date will be a different shift.
Creating and Transmitting Zoom links for recurring events:
For an event with multiple recurring shifts, your should create your link in Zoom to be a Recurring Meeting with Recurrence of No Fixed Time, since you'll be using the same Zoom link on different days.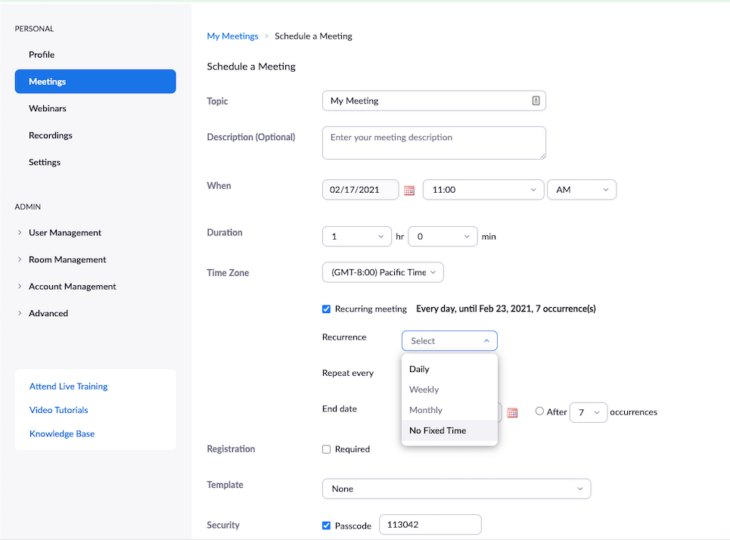 Where do you add your Zoom link for an event with multiple shifts?
IF standard (weekly/monthly) recurring shifts & same Zoom link for all shifts
e.g.  weekly phonebank, private leader monthly meeting
Set the "Frequency" accordingly
Select Add video call information — this information will be applied to all shifts in your event series
IF non-standard recurring shifts, create each shift 
e.g. fundraising series of events (like State Bridges event series)
Set the "Frequency" to "Once"
Select Add video call information, add Zoom link. Note that Zoom links can be different for each shift.
Repeat for all shifts in your series
Promoting HQ and Other Team Events, i.e. Host / Co-Host structure
Think of "promoting" HQ or other team events on your Mobilize account as our way to collaborate on events, structured to reflect a Host / Co-Host relationship.
Examples:
SD EUG adopts the SD Portland phonebank. The SD EUG leaders will want to "promote" the SD Portland phonebank event page on the SD EUG Mobilize account, and start recruiting using the unique URL for their branded "instance" of the event.
SD NYC wants to be involved in SD South Bay LA's trivia night. SD NYC would "promote" that event in their Mobilize account, and start recruiting using the unique URL for their branded "instance" of the event. In recruitment efforts, SD NYC would include their ActBlue links to raise money for their candidates.
Here's how it works:
If you "promote" events hosted on the HQ Mobilize page or on other teams' Mobilize pages, those events will show up on your Mobilize page feed with your branded logo, appearing to the visitor as though it's your team's event. People searching your team's Mobilize page will see those events.
You'll have a unique URL to promote your instance of the event. For example, the HQ State Bridges event series Mobilize URL is https://www.mobilize.us/sisterdistrict/event/377479/. If SD CA Peninsula follows the steps below to "promote" the HQ State Bridges event series page unique URL is: https://www.mobilize.us/sisterdistrictcapeninsula/event/377479/ (notice the same six-digit numerical indicator on the end).
Here is an example of what the HQ Mobilize account's State Bridges event page looks like as an instance on the SD CA Peninsula Mobilize account once they've "promoted" HQ and the event: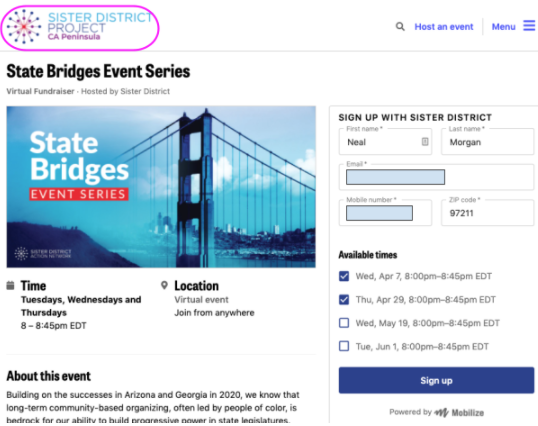 Those who sign up through your instance are reflected in the "Host's" global signup list and receive the centralized confirmations and reminders like everyone else. You cannot edit the event or control those automatic communications. Your signups will not receive duplicate confirmations and reminders.
The advantages to "promoting" through your Mobilize account are:
You will be able to monitor the sign-ups specifically created by your team (the account admins will see the global sign-up total)
Those who sign up through your event instance not currently on your list in Action Network will be added automatically
Here are your steps to promote HQ or other team events:
In your Admin dashboard view, click Promote Organizations
Search for Sister District (for HQ) or for another Sister District team account and click Promote. You'll be asked to confirm.
The purple Promote button will then become red with a Stop Promoting label, should you ever decide to stop promoting that "organization's" events
Back in your Admin dashboard view, click Events, then Promoted
At this point, the events of the organization you are Promoting will show up in your "feed", which means that someone searching for your page will see these as options. If they sign up through your feed's promotion of this event, you'll see and be able to interact with those sign-ups. You won't see the grand total of sign-ups for the event that the host organization will see.
To Hide particular events from your feed, use the pull-down menu under Actions. "Pin to feed" will place an event at the top of your feed, giving it high priority.
Automated Email/Text Reminders
While editing your event settings, you can toggle "on" automatic confirmation and follow up messages. You are able to customize these messages to fit the needs of your event.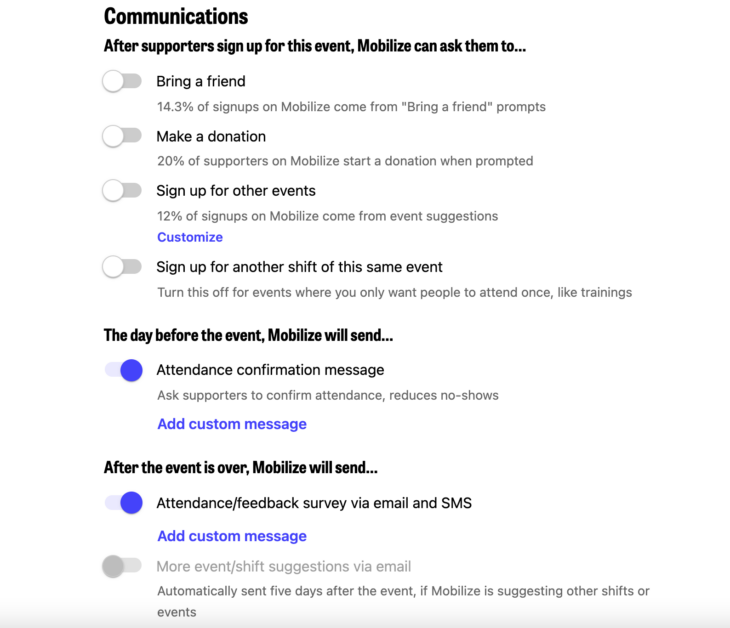 Co-Owning Events, i.e. multiple Hosts
We think that 90% of the time, a "Promotion" structure will be ideal for teams wanting to collaborate. The "Promotion" option described above is a Host / Co-Host relationship, where Co-Hosts don't need control to edit the event itself. But in the rare cases in which two teams want to have full control of the same event, you can now "co-own" events with another "organization". Think of this as two equal Hosts of an event. Co-ownership allows multiple teams full control to edit and communicate with all sign-ups for one event. Co-owned events will also appear on in the teams' Upcoming events in the same tab as other events you have created instead of in the Promoted tab, as in the "Promotion" option. See this example for how "Co-Owned" events will show up in a team's Admin dashboard. Note the "Shared" button next to Virtual Events Training. See: Overview of Co-ownership

Exporting Sign-Up Lists & Viewing Event Feedback
See: How can I export a list of signups?
If you want to export sign ups for a single shift, scroll down and select the desired shift. Above the list of sign ups, you will see three blue boxes. The furthest to the right will be "export sign ups" and you will be emailed a .CSV file with that single shift's registrants.

Though Mobilize integrates with Action Network for tags and adding new volunteers automatically, there are two situations in which you will want to export a list of sign-ups for a shift (e.g. May 1 phonebank) or for your entire event series (e.g. all signups for all shifts on our phonebank event page).
Why export a list of sign-ups?
Text Reminders. Mobilize has automated text reminder capability, but in the Sister District Organizing Department's test of the Mobilize system for the HQ Phonebank Series in 2020, we found it important to still send text reminders outside of the Mobilize system on the morning of each phonebank. This can improve deliverability and increase the number of participants who receive the text message. Reminder texts can double attendance rates. Check out How to: Text Reminders to learn more on how you can send texts to all your sign ups .
Event Feedback. To see event feedback, you will need to export the sign up list. You will be emailed a .CSV file containing basic contact info for each sign up, any feedback they provided, and other critical data. Depending on the number of sign ups, these files may take some time to arrive in your email.