August 2020 Talking Points
Current candidates and Sister District news:
We have 4 new candidates!
We weren't planning on endorsing more candidates in 2020, but we've been blown away by the passion and enthusiasm our community has shown this year. So, we are expanding our map to support even more candidates.
The candidates are:
Even if your team is not assigned to one of these candidates, we encourage you to share the good news using this fundraising link!
President Obama Endorses Sister District Candidates!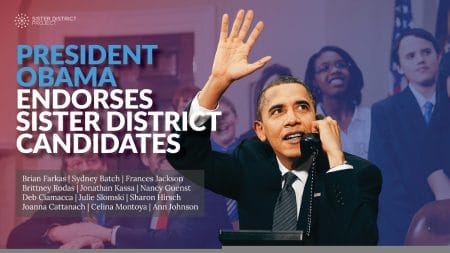 President Obama has endorsed 12 of our 2020 candidates!  He writes, "I'm proud to endorse this diverse and hopeful collection of thoughtful, empathetic, and highly qualified Democrats." This is a huge win for our candidates – share the good news!  The Sister District candidates he has endorsed (so far) are:
Brian Farkas (NC)
Sydney Batch (NC)
Frances Jackson (NC)
Brittney Rodas (PA)
Jonathan Kassa (PA)
Nancy Guenst (PA)
Deb Ciamacca (PA)
Julie Slomski (PA)
Sharon Hisrch (GA)
Joanna Cattanach (TX)
Celina Montoya (TX)
Ann Johnson (TX)
Suggested Post:
"I'm proud to endorse this diverse and hopeful collection of thoughtful, empathetic, and highly qualified Democrats."

Thank you to President Obama for endorsing our candidate [CANDIDATE NAME]!
Op-ed by Rita Bosworth
Read Rita's latest op-ed in the Hill, "Kamala Harris pick shouldn't end the conversation on electing more women of color." We are thrilled to have a woman of color running on the presidential ticket, but we can't stop there.
$750k In Candidate Donations!
Thanks to all of YOUR hard work, the Sister District community has now raised over three quarters of million dollars for our candidates this year. We encourage you to share the good news along with a link to donate to your candidates!
Suggested post:
The Sister District community is on fire! Together, we have raised over 3/4 million in small dollar donations directly for candidates. Our momentum is only growing – help us go even farther with a donation to [CANDIDATE NAMES] right now! [link to donate]
Featured Candidate: Frances Jackson
Frances Jackson is our current featured candidate! Frances has spent a career in public service, as a transportation and urban planner, and as a high school teacher. Read her inspiring interview here: www.sisterdistrict.com/jackson-interview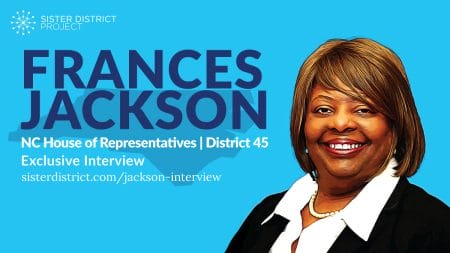 One sample posts below, and check out even more messaging on our Asset Library.
Suggested Posts: 
Frances has dedicated her career to being a community planner, an educator, and a court magistrate. This year, she's taking her fight to the North Carolina House of Representatives. Learn more about @JacksonForNC45 www.sisterdistrict.com/jackson-interview 
"I learned quickly that planning steers the growth of the community.  Planning can protect the community and also open it up for new people to enter" @JacksonForNC45 on the importance of planning in North Carolina. Read more about her lifelong fight: www.sisterdistrict.com/jackson-interview
"I saw regular hardworking people come together in front of the boards, fight for something their community wanted, and win." That's when I realized the power of the community's voice to impact decision making, and that's part of  what encouraged me to run."

Frances Jackson is taking the fight to the North Carolina House of Representatives, read more in our exclusive interview: www.sisterdistrict.com/jackson-interview 
Black Lives Matter
Candidate Statements
Many of our current candidates are speaking out in support of the Black Lives Matter movement. We have compiled a public facing tracker that contains the public statements our candidates have made so far, and we will update this tracker with additional statements as they become available.
How States are Responding to Protesters' Demands
In addition to candidate statements, our very own Field Manager Ore Obiwumi penned an excellent overview of the current steps state legislatures are taking to combat police brutality.
Other Topics:
Messaging guidelines around Trump Undermining the General Election
Recently, the president has been particularly vocal with statements that seem to be aimed at undermining voter confidence and the electoral process itself. These include suggesting that the date of the election be moved, and making baseless accusations about the accuracy and credibility of vote-by-mail.
Here are a few guidelines on how to respond on social media:
Do not retweet or repost Trump or his staff – it only amplifies his reach.
Fact check everything: vote-by-mail is safe and secure, and the date of the general election cannot constitutionally be changed by the president.
Amplify trusted sources, like elections officials, voting rights advocates and scholars, and reputable journalists.
Share our blog post about holding safe and fair elections this November.
More Resources: