Last week I left the freezing rain of Brooklyn NY to go to sunny Sarasota Florida and canvass for Margaret Good's Florida State House campaign. This was the first time that I had ever done something like this. I looked at the cost of flights, rental car, and then emailed my friends at the Sister District Project to see if they could help me arrange a free place to stay. Margaret's team was amazing, and they set me up with amazing supporter housing (I had a bed, a pool, and 2 new friends).
As I was planning to leave NY, my friends were vaguely in awe and amazed that I was doing this… like I was martyring myself for the resistance. I reminded everyone that I was going to an 80 degree paradise in February. Although I planned on working on whatever the campaign needed, I fully intended to make it to the beautiful beaches daily (I did) and use my swimsuit at least twice (I did). It was basically a 3 day vacation.
When I got to Sarasota on the first night I went to headquarters to offer my services. The next day they sent me out to knock on doors. This was surprisingly fun. I won't lie, there were a few people who rolled their eyes and closed the door in my face. But overall, the response from the community was so happy and supportive to see people, particularly "young people", getting out the vote and caring about the issues. I felt appreciated by the constituents and by everyone on the team. A few people on the team almost shed a tear and said, "you came all that way for us?!" I received hugs and high-fives, I saw the entire city and met tons of people.
Door-to-door canvassing makes such a difference. People in general are less likely to turn away a smiling human at their door. Here's a rundown of what I did:
I knocked on maybe 150–200 doors (I did about 6–7 packets of 25–40 voters each).
About half the time someone answered.
Most of those people were "strongly supporting" Margaret. A majority of those folks were PUMPED to vote and excited to see a young Democrat getting active.
In every "packet" there was someone who needed to know where there polling site was, or needed a ride to the polls, or had some questions about early voting or vote by mail. I was able to answer their questions or route the in the right direction. In other words, my visit helped them vote.
Every day that I canvassed I encountered someone who felt disenchanted and disempowered by the current political system, but was receptive to a conversation. I think (hope) that I swayed them to participate and feel empowered by the changes they can make at the state level (whomever they choose to vote for).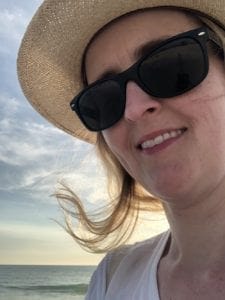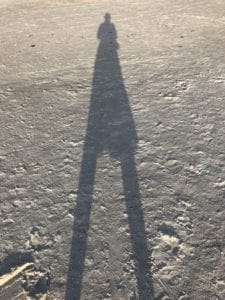 Why did I do this? I'm not from Florida, I didn't have a lot of family or friends there. I'm a 37 year old fashion designer, not an activist living a nomadic lifestyle hoping to enter political life as a career.
Partially, I did this because Margaret Good is an excellent candidate with great goals and with the energy and intellect to make them a reality. I heard her interviews and debates and I was really impressed. I knew that these mid-term, off-season, down ballot races get little attention, and I thought she might need help. I also did it because Florida's state house affects my life in NY.
How does Florida's state house affect my life in NY? Well, for one, I'm passionate about the Equal Rights Amendment (ERA). Did you know that women in America do not legally have equal rights in our constitution? The ERA is two states shy of ratification, and Florida is one of those states that has not yet ratified the amendment but could. This is not explicitly on Margaret's platform, but I hope that a progressive woman in office would fight for it. At a bare minimum Margaret will help to pass and nudge state laws to legalize equality and help all families.
Second, Did you know that gerrymandering has made 100 Democrat votes equal to 94 Republican votes? I could cry, or I could mobilize 10% more Democrats to the polls to counteract the dilution of our Democratic votes. Florida is a gerrymandered state, particularly at the state house level, and even when more Democratic votes were cast for statewide offices, fewer Democrats were elected to the federal House of Representatives and State House and State Senate in prior elections.
This happened all over the country, because many state legislatures control redistricting. They redraw the district lines after every census, which happens every ten years. Some of the particularly egregious gerrymandering of 2010 actually backfired on the Republicans that fought for it. More moderate, centrist Republicans lost their office because the only real competition came from even more conservative candidates. Many moderate Republicans became ultra-conservatives because they wanted to keep their jobs. This has unnaturally polarized our legislatures — at the state and federal levels — in a way that causes gridlock, and simply doesn't reflect the will of the people that they serve. My own Congressional representative, Yvette Clarke, faces more obstacles to passing progressive legislation because of gerrymandering in other states.
Third, challenges that Floridians face in terms of fairness and representation in their state government affect me in New York too. This includes the important issue of felony disenfranchisement. Did you know that 1.6 million Floridians are disenfranchised because of a prior felony conviction? But despite the fact that they cannot legally vote, did you know that these disenfranchised Floridians, and all of the people in prison in that state, count toward their state's total number of electoral college votes in the presidential election? I did the math — it is at least 4 unfair electoral college votes just in Florida, and 1 vote in almost every southern state. These citizens did not get to vote in 2016, but their body was counted as a vote for Trump. Let's just say I've felt the reverberations of this state policy's effect on national politics from NY.
A lot of states are in a similar boat as Florida, but Florida is the biggest and harshest. Beyond the ways that Florida elections affect me personally as a New Yorker, I was also moved to help get out the vote in Florida because of broader issues of fairness and justice. Nationwide, 97% of people in jail never had a trial, our system can't keep up with the number of people it arrests. 46% of these currently or previously incarcerated people were tangled up in "the war on drugs" in a minor way but did not have the economic resources to fight it. In Florida, homeless people are fined up to $500, and failure to pay could land them in jail. Restitution fees can be as much as $8000 and failure to pay could land you in jail. Even without getting arrested, people can lose their professional licenses or driver's license for student loan debt. These laws criminalize poverty, which simply is not fair.
A petition regarding felony disenfranchisement in Florida recently got enough signatures to make it into a ballot initiative in the November 2018 election. 60% of the voters will need to approve it. But even with this approval, it might go nowhere if the governor and state legislatures let it languish. More progressives are needed at every level of government. If Margaret is elected, this initiative has a better shot at success.
Overall, I've become super inspired by what can be done on any state level. Do you want healthcare? Your state could do it. Do you want Trump and other people in the administration to face repercussions for illegal acts? Maybe your state attorney general is already pressing charges — the president cannot pardon state convictions. Do you want protection for Dreamers and immigrants? States rights can be used for good, or they can be used to promote nationalist ideas. Contact your state, county, and local representatives. They should be happy to hear from you. If they are ineffective, vote them out of office. A little goes a long way in these down ballot races.
Here are some resources if you want to get more involved in state politics:
www.sisterdistrict.com if you are in a really saturated progressive district and you want to aid districts that need more help, they are an excellent resource.
www.ourstates.org if you want to find ways to enact progressive policies in your own state, or a state where you have roots, they have an excellent up to date list of bills and actions in the works on a state level.
www.equalmeansequal.org if you are interested in ratifying the ERA, they have action items for every state. 80% of Americans do not even know that we are one of the only countries in the developed word that does not have equal rights for women in the constitution. Even telling a friend about this issue is a great step.
These organizations are helping to make voting easier:
www.letamericavote.org
www.voterparticipation.org
If you're interested in getting more involved with Sister District, or even starting a team yourself, we encourage you to sign up to volunteer!