SPECIAL EVENT!!!
FINAL Socially-Distant Party Game Night: Friday, October 2nd, 6pm PT
 We're going to finish with a bang, joined by some amazing comedians, including:
-Paul Scheer (The Good Place, Curb Your Enthusiasm, Big Mouth, American Dad, Veep, Drunk History, Brooklyn Nine-Nine, Children's Hospital, The League)
-June Diane Raphael (Longshot, The Disaster Artist, Big Mouth, American Dad, Curb Your Enthusiasm, Veep, Another Period, The League, BoJack Horseman, Anchorman 2: The Legend Continues, Parks and Recreation, Drunk History)
-Jason Mantzoukas (Parks and Recreation, The Good Place, The House, The Dictator, The Lego Batman Movie, Big Mouth, American Dad, Brooklyn Nine-Nine, John Wick: Chapter 3, Drunk History, Transparent, Workaholics, The League, Broad City, Bob's Burgers)
-Greg Proops (regular on "Who's Line is it Anyway.")
-Andy Beckerman
-Dory Greenburg
-Oscar Montoya
-Biqtch Puddin
-Kelly Nugent
-Dave Holmes
-And of course, our perenial co-hosts, without which this wouldn't be possible: Jesse Neal and Keith Kingbay
Grab some friends and your sense of humor, and join us for some hilarious online party games from Jackbox, like Quiplash, Joke Boat, Tee KO, and more! Register here.
These are fun whether you're playing or just part of the audience - audience members still get to play a role in the game by voting for the people playing. You only need a computer/device with Zoom, and a separate phone or tablet which becomes your controller.
A donation to our candidates is required to discourage trolls and zoombombers (If someone wants to be disruptive or hateful, the joke's on them: they just contributed to progressive candidates!) The minimum suggested donation is $5, but you're absolutely encouraged to donate more if you can. (You'll DEFINITELY have more than $5 worth of fun!) You can make your donation here.
Note: some of these games can have prompts that aren't always appropriate for children: think of a tamer version of Cards Against Humanity. But you can just put the kids to bed and join us. After everything that's happened in 2020, you deserve to laugh a little!
Sunday, October 4th - 4 pm PT: Hear from to an Expert on Presidental Misconduct
James Banner, Guggenheim Award winning historian, author, and tenured professor at Princeton, has a unique perspective on the misbehavior we see coming from the White House every day. He's one of the authors of Presidential Misconduct: From George Washington to Today.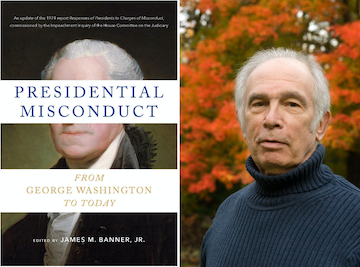 This book was originally written as a report to Congress in 1974 during Nixon's Watergate scandal, detailing presidential malfeasance through all of American History. In 2019, he edited a new addition, updating the book with presidential scandals through the present day. Nobody has a better sense of how Trump's misbehavior compares with (or stands out from) the presidents who came before. Register here.
Wednesday, October 7th - 6:00-7:30 pm PT: Vice Presidential Debate Bingo!
Want to watch wicked-smart Kamala Harris score against Mike Pence in the one and only 2020 Vice Presidential Debate? Join our Sister District VP Debate Bingo to cheer her on, raise funds for our trio of North Carolina candidates, and have a chance to win a prize!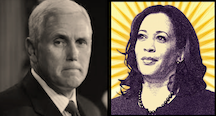 STEP 1: Make a donation of $20.20 (or more) to take part in the event!
The first $300 in donations will be matched by a local Sister District volunteer!
Here's the link to donate: https://secure.actblue.com/donate/sd141-slate-pdxe?refcode=VPbingo
All players will be entered into a prize drawing. You'll receive an emailed link to create a randomly generated bingo card with words that may come up as the VP candidates face off.

STEP 2: There are two ways to play:

LIVE EVENT: Join the Zoom debate watch-party, October 7th, 6-730pm, with hosts Anthony and Diana. They'll live-chat the debate as you watch on your own device and help make sure you don't miss anything on your bingo card! Register here.
Note: This event needs at least 15 participants registered by noon on October 6th, so don't delay!

STREAM AND PLAY LATER: If you can't watch the debate in real time, you can still play and be eligible for prizes. Make your $20.20 donation before 10pm on Saturday, October 10th, and stream the debate at your convenience.
STEP 3: WIN!!! Prizewinners will be notified by email starting Sunday, October 11th. Prizes include a bottle of Oregon wine (including delivery), a 2-week unlimited online pass for Unfold yoga & meditation ($25 value), a $20 gift card to Powell's City of Books + other gift cards for local businesses!
Past Events - Sorry you missed out! But sign up for our upcoming events so you no longer have to live in regret! :)

Sunday, May 31st - 5 pm PT: Blue Flip Distance Variety Show (our kickoff for our summer series!) Featuring:
Sunday, June 7th - 5 pm PT: Good Wine and a Good Cause, a talk about Oregon wines and sustainable wine growing, with Marcus Goodfellow, a proprietor of Goodfellow Family Cellars and a Board member of the Deep Roots Coalition. Register here.
One lucky attendee will get a free bottle of Goodfellow Family Cellars' 2016 Syrah!
Sunday, June 14th - 5 pm PT: Meet Dr. Frances Jackson!
She's one of our two North Carolina candidates! She's running for the State House of Representatives from House District 45, and she'll be speaking to us live via Zoom! Learn why she's running, why she's perfect for the job, and why her district is a top-target for flipping the state legislature blue. Don't miss this one!
Sunday, June 28th - 5 pm PT: Meet Brian Farkas!
He's our other North Carolina candidate! He's running for the State House of Representatives from House District 9. Join our conversation by Zoom, and learn why he has the skills to hit the ground running when he wins his race. Another event not to miss!
Sunday, July 12th - 5 pm PT: Good Hikes and a Good Cause: a talk with Bonnie Henderson, a published author of four books, including "Day Hiking: Oregon Coast," and "Best Hikes with Kids: Oregon." She'll talk about 6000 years of history along the Oregon coast trail, and talk about some of her favorite hikes.
Two lucky attendees will receive a copy of one of Bonnie's books on Oregon hikes!
Sunday, August 16th - 5 pm PT: How to Get Young People Involved in Activism: Award-winning author Elizabeth Rusch will offer surprising insights from her new book for adults and young adults, You Call THIS Democracy? How to Fix our Government and Deliver Power to the People, which the New York Times called "fascinating" and Kirkus called "a riveting must-read."
In addition to discussing concrete steps to fix our democracy, Rusch will share insights on how to reach and rally young people.
You can order the book anywhere, but we encourage you to support Annie Bloom's Books, a local small business. You can order the paperback, hardcover, or digital audiobook.
As an incentive to donate to our candidates in North Carolina, if you purchase a book and donate $20.20 to our candidates through this link, Liz Rusch will personally autograph your book! (On the checkout page at Annie Bloom's Books, just leave a note in the "comments" box that you've donated, and they'll hold the book to be autographed before shipping).
If you donate $50 or more to our candidates, Liz Rusch will do a 20-minute virtual visit with your own personal book club!
Sunday, August 23rd - 5 pm PT: The Buzz About Bees: Honeybees are among the hardest working critters on the planet. They don't just give us honey; we depend on them for a wide variety of food crops and flowers. But they're struggling. Join Glen Anderson, proprietor of Bridgetown Bees, to learn how we can all help them.
Bridgetown bees helps people establish backyard hives, and can be found at the Portland Farmers Market with their beeswax candles and honey products. There will also be a question and answer session, so you can ask the expert all your questions about bees.
Sunday, September 20th - 5 pm PT: Meet Ricky Hurtado!
A son of working-class immigrants, growing up in rural North Carolina, he juggled two jobs while while making his way through public high school.
A first-generation college student, he found his passion for public service at UNC-Chapel Hill, and went on to earn a Masters in Public Administration from Princeton University.
He's never lost his focus on effective public policy to fight poverty and inequality, and building strong, vibrant communities. Ricky holds a number of community leadership positions in his pursuit to build a better future for all children and families across North Carolina.
Learn how Ricky Hurtado is ready to lead North Carolinians towards a more just and equal North Carolina! Register here.
Sunday, September 27th - 4 pm PT: A Conversation with New York Times Bestseller, Dr. Michele Harper
Please join us for a talk with Dr. Michele Harper. She's an ER physician on the frontlines of the COVID pandemic, author of the New York Times bestselling memoir, "The Beauty in Breaking," and recent guest on both The Daily Show with Trevor Noah, and NPR's Fresh Air.

Dr. Harper will discuss her experiences treating patients during the absent federal pandemic response, dealing with systemic racism in medicine and policing, the need to further expand healthcare access, and what we can all do to maintain our psychological health during these difficult times.

Your suggested minimum donation of $20.20 will go directly to help elect Democratic candidates for state legislature endorsed by Sister District Project. Make your donation and register here!

You can read more about Dr. Harper here:
https://micheleharper.com/

You can also purchase her New York Times bestselling memoir here:
https://www.penguinrandomhouse.com/books/580340/the-beauty-in-breaking-by-michele-harper/