......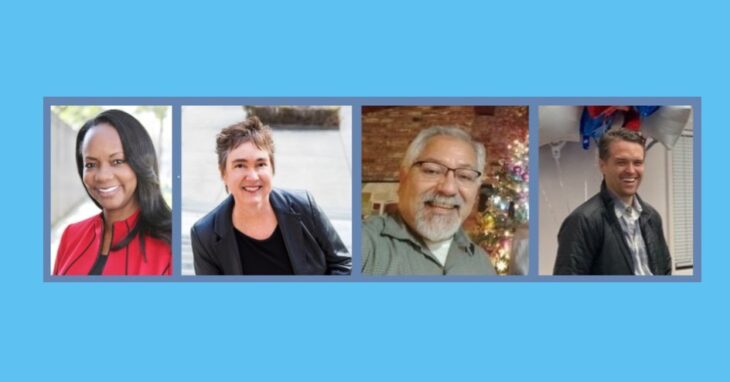 Go Local! Meet the Democratic Party County Committee Chairs!
Saturday, March 27 – 1:00-2:30pm PDT
Sister District Monthly Meeting
How much do we all know about the Democratic Party in our area? Join us to hear from a panel of four Democratic Party County Committee Chairs - Tracie Stafford, Sacramento County; Linda Deos, Yolo County; Tomas Vera, Placer County; and Joshua Elder, El Dorado County. The panel will discuss the party structure, priorities for 2021-22, how you can make your voice heard and answer your questions. Also…Sacramento update and breakout rooms.
Meet our first partners! We are excited to launch State Bridges with events for four phenomenal organizations:Wednesday, April 7
New Virginia MajorityThursday, April 29
Texas Organizing Project (TOP)Wednesday, May 19
Florida RisingTuesday, June 1
Living United for Change in Arizona (LUCHA)
2021 Kickoff - Meet Our New Executive Director
Virtual Community Event
Time: Saturday, February 27, 1 – 2:30pm PST
Location: Virtual event, Join from anywhere 
About this event:
Join Sister District Sacramento as we kick off 2021! Hear from Lala Wu, co-founder and new Executive Director of Sister District Project. What's on our agenda for the year? Campaigns, supporting grass roots organizations, flipping and holding state legislatures blue and much more.
You'll hear from Sister District Sacramento's Planning Team about activities for this year. We'll also take time for smaller Zoom rooms to meet and talk with other volunteers.
Can't wait to see you! 
______________________________________________________________________
February 6-7 (Saturday-Sunday), 9am – 1:30pm PST
Virtual Community Event -- Join from anywhere
Sister District is thrilled to invite you to the fourth annual Sister District Summit! (The preceding link also takes you to Summit recordings and resources.) Join our staff and volunteers from around the country as we celebrate our successes, learn from each other, and strategize for 2021 and 2022. Volunteers and leaders from both teams and affiliates are welcome at this virtual event. Suggested donation $20.21.
Exact trainings, panels, and keynote speakers will be announced soon, but you can expect sessions on:
Keynote address by progressive communications expert Anat Shenker-Osorio, author of "Don't Buy It: The Trouble with Talking Nonsense About the Economy"

Sister District's 2021-2022 Political Strategy

Panel discussion with Sister District alumni, including Colorado Senator Faith Winter, North Carolina Representative Ricky Hurtado, and Georgia Representative Regina Lewis-Ward

Behind-the-scenes with campaign staff, with Brooke Condrey (Campaign Manager, Shea Roberts), Gowri Buddiga (Campaign Manager, Brittney Rodas), Alexander Myers (Campaign Manager, Nancy Guenst)

Grassroots fundraising training

How to organize effectively for phonebanking

Messaging in a post-Trump era

The latest in our experimental research on voter and volunteer engagement

"What's at Stake in Virginia," with Tram Nguyen, Co-Executive Director of New Virginia Majority, Virginia Delegate Joshua Cole, and Executive Director of the Virginia House Democrats, Jaime Reimers

Volunteer recruitment and retention

Social media and email outreach

And lots more!
Attendees will have the option to choose which sessions they want to attend, and are not obligated to attend every session (though we hope you will!). For more details, visit our website.
And if you are able, please consider a donation of $20.21 to help us cover the costs of this event and continue our work building progressive power in state legislatures.
The 2020 Elections:  What happened?
Read these reports for Sister District Project's analysis of what happened in the 2020 elections. 
State legislatures in the 2020 election: What happened?
These reports were written by Gaby Goldstein and Mallory Roman.  Gaby is one of the Co-Founders of Sister District, the Director of Political Strategy, and the Director of Research at Sister District Action Network.    
Would you like to speak to a member of Sister District Sacramento's Planning Team about ways you can become more active? Just click below to send us an email and we'll be in touch!