Democracy works best when all eligible voters participate.
Election rules vary widely from state to state, making it much harder to vote in some states than others. These differences are more significant now than ever, as we prepare to conduct the most important election of our lifetimes during the ongoing COVID-19 pandemic.
Expert election watchers agree that vote-by-mail should be drastically expanded in order to "pandemic-proof" the November election, so that voters do not have to choose between protecting their health and exercising their fundamental right to vote.
State Legislative Elections Matter
As we at Sister District Project know, state legislative elections matter. In 2018, Virginia was ranked as the second hardest state in the country to vote in. That immediately changed once Democrats flipped control of both houses of the Virginia legislature in November 2019. In their first three months in the majority, Democrats passed a series of bills making it easier to vote in Virginia, including repealing the photo-ID requirement, enacting automatic voter registration, allowing no-excuse absentee voting, requiring the state to pay return postage for mail ballots, counting mail ballots postmarked by Election Day, adding early voting, and extending poll hours on Election Day. They also made Election Day a state holiday (replacing Lee-Jackson Day, a holiday honoring Confederate generals). All of these bills were signed by the Democratic governor in April 2020 and took effect July 1, 2020.
Expanding Vote by Mail Is Essential
This year, Sister District has endorsed a talented and diverse slate of 30 candidates in nine key states: Arizona, Florida, Georgia, Michigan, Minnestota, North Carolina, Pennsylvania, Texas, and Wisconsin. How safe, secure, and accessible voting is in our target states currently varies substantially, particularly with regard to "absentee" or mail voting. Eight of these states already allow "no-excuse absentee" voting, with Texas being the exception. In late May, the all-Republican Texas Supreme Court sided with state officials and ruled that voters could not use the "disability" excuse to vote absentee during the COVID-19 pandemic (a separate federal lawsuit continues).
In Arizona, where 79% of voters already voted by mail in 2018, the Republican-controlled state legislature and Republican governor nonetheless oppose calls to mail ballots to all eligible voters. Unlike in Arizona, mail voting was a very small percentage of turnout in North Carolina (3%), Pennsylvania (4%), Georgia, Texas, and Wisconsin (all 6%), and only moderately more in Florida (31%), Michigan (24%), and Minnesota (24%) in 2018.
Expanding vote by mail requires time and money, and political will.
Local election officials need to plan and act now to avoid supply chain problems for ballots, envelopes, and counting machines. For vote by mail to be fair and accessible, states need to do more than just mail out ballots. Voters should be able to register and complete their mail ballot requests online. There should be multiple ways to return ballots (including prepaid postage, secure drop boxes, and allowing voters to designate anyone of their choosing to return their ballot). Especially during the pandemic, states should eliminate additional hurdles to returning mail ballots, such as requiring witness or notary signatures. Ballots should be counted if postmarked by Election Day to avoid confusion and allow for delays with the postal service.
Furthermore, states need to ensure that ballots are not rejected unnecessarily. Mail ballots are much more likely to be rejected than in-person ballots, especially for young voters and voters of color. One study in Florida showed that Black and Latinx voters were twice as likely to have their ballots rejected than white voters. To avoid disenfranchising voters, individuals should be notified of any problems with their ballot and given an opportunity to "cure" for a reasonable number of days after Election Day. States should make ballot tracking available online so that all voters can track the progress of their ballot and make sure it is counted.
Vote-by-mail is not enough. We Also Need Safe, Accessible In-Person Voting Options
Even with expanded vote by mail, states still need to ensure that there are a sufficient number of safe, accessible polling places for people who need to vote in person (including those without regular mail service, voters who need accommodations or language assistance, and people who have moved recently), or who choose to do so for other reasons.
Mail voters have historically tended to be older, whiter, and more conservative, while Democrats have focused more on getting people to the polls. In the last national elections in 2018, only about 11% of Black voters voted by mail (under half the rate of white voters). There are a number of reasons for this difference. For some Black voters going in person to the polls is a powerful and symbolic act they don't want to give up. In other cases, Black voters don't trust that their mail ballot will be counted, with good reason. Patterns of mail voting are changing some this year due to the Covid-19 pandemic and efforts by Democratic and Black voter mobilization groups (while Republican attacks on mail voting are affecting their own voters).
This year, many people across the country will be voting by mail for the first time, and may miss some of the requirements or deadlines. Local election offices may not be able to handle the increased demand for mail ballots, as we saw in several places during the primaries that have taken place since March. In-person voting is a necessary safeguard for voters who do not receive their mail ballots on time or have other problems with voting by mail.
States should offer same-day voter registration, and at least two weeks of early in-person voting, including at least one weekend day of early voting to avoid long lines on Election Day. Local election officials need to plan and act now to have enough poll workers and personal protective equipment (PPE) and to secure a sufficient number of voting places that are not in high-risk facilities and are large enough to allow for social distancing. We must do everything we can to avoid a repeat of the disastrous reductions in polling places that happened in Wisconsin, Pennsylvania, Georgia, and elsewhere during the primaries, which led to hours-long lines in many places and disproportionately impacted Black voters. Longer lines in predominantly Black neighborhoods is not a new problem, but the coronavirus pandemic makes it even more unconscionable.
The table below summarizes where each of our 2020 target states currently falls on the election policies needed to ensure safe and fair elections this November. A few states have relaxed some of these policies for their primary elections during the pandemic, but have not yet committed to do so for the November election.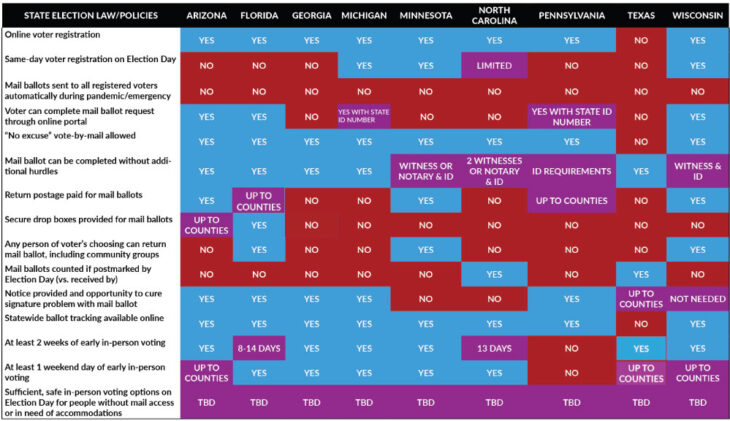 Last updated: June 21st, 2020
Download the PDF: State Elections
We Must Elect Democrats Up and Down the Ballot to Protect Voting Rights
While protecting voting rights nationwide during the pandemic should be a nonpartisan effort, sadly, that is not the case. All of the above recommended election provisions, with the money needed to pay for them, are included in the Heroes Act passed by the House of Representatives on May 15, 2020. However, these provisions are unlikely to pass the Republican-controlled Senate, never mind be signed by President Trump.
Voting rights advocates are also looking to the courts. Numerous federal and state lawsuits have been filed over election policies in several states, including absentee ballot restrictions, ballot receipt deadlines, signature matching, witness requirements, ballot collection practices, and governors' executive and emergency powers. Litigation is an important and necessary voting rights tool, and voting rights advocates have won several significant battles recently. However, many state and federal courts (including the U.S. Supreme Court) have been stacked with right-wing judges, litigation takes time, and conflicting executive orders and last-minute court rulings can contribute to confusion and uncertainty, as happened with the Wisconsin primary.
Rather than having to rely on litigation, the better long-term solution is to enact voting rights legislation on the federal and state level. To do this, we need to take back the White House and the Senate and flip state legislatures blue, as we did in Virginia. Progressives also need to pay attention to other down-ballot races that are vital for ensuring fair and safe elections such as secretaries of state, state attorney generals, and county recorders. We can and we must do better in every state to ensure that voting is safe, fair, and accessible to all.