2020-9-9 Political Director Dispatch
HQ Liaisons,
It's wild that it's already September! We've got 55 days until Election Day. Thank you all for pushing hard down the stretch!
This Political Director Dispatch gives a monthly snapshot of our field and fundraising toplines, insight into our political strategy and how our candidates are doing, new endorsements, and campaign and field activities are on the horizon.
I hope this Dispatch is useful! Thanks for your feedback about the Dispatch on last night's Political Director call. As always, let me know if you have additional thoughts or feedback.
Many thanks,
Gaby
IN THIS ISSUE
Event Today! TX Fundraiser with Beto O'Rourke
Endorsements: Wave 4
Field and Fundraising: Current Toplines
Field and Fundraising: New Programs Coming
Next Political Director Call – October 13 at 5 pm PT / 8 pm ET
1. SISTER DISTRICT + BETO! FUNDRAISER FOR TEXAS – 5:30 CT 9/9/20
We are excited to be hosting a virtual fundraiser for our TX Candidates with Beto TODAY! We will have special guests Celina Montoya, Lorenzo Sanchez, and Joanna Cattanach join us to say a few words about their campaigns at 5:30 CT, and then Beto will join us for a Q&A at 6:00 CT. Here's the link to join! Feel free to share with anyone who might be interested.
2. ENDORSEMENTS: WAVE 4
I can barely believe it! Your field and fundraising work has been nothing short of incredible — so we have endorsed a FOURTH wave of candidates!
We are primarily just fundraising for these folks only, and not sistering them to particular teams. But but but! If you have any capacity, please let me know! These endorsements will be a bit like our Mississippi endorsements in 2019 – mostly HQ fundraising and candidate services, but absolutely open to all teams for a little fundraising love if you have capacity.
3. FIELD AND FUNDRAISING: TOPLINES
Our field and fundraising has been absolutely incredible — thank you so much for your incredible organizing work!! Here are our current toplines (As of 9/8):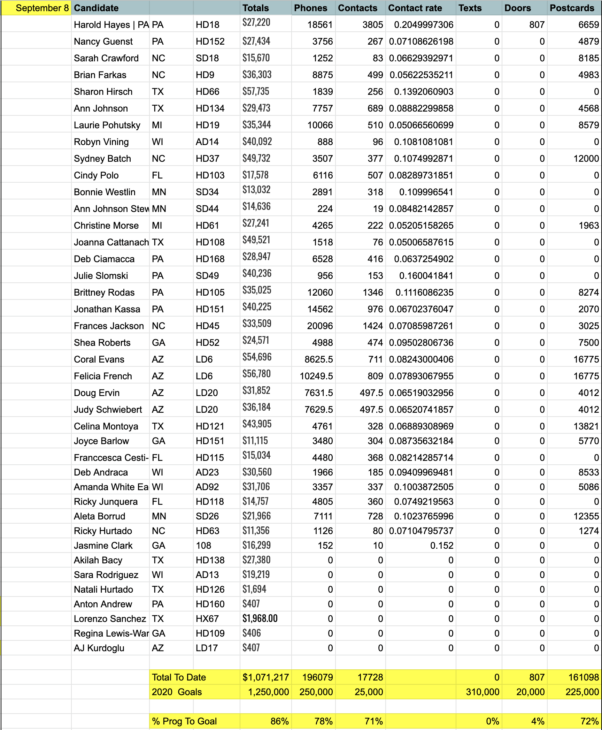 We're so far ahead this year!! To put these numbers into perspective:
Sept. 2018: we'd raised $450,000, made 76,000 dials, and sent 152,000 postcards;
Sept. 2019: we'd raised $536,000, made 85,000 dials, and sent 90,000 postcards.
Other neat stats re: fundraising and field:
65% of total candidate fundraising has come from teams; the remainder from HQ efforts (emails, digital/social media, website).
Contact rate for dials to date — lowest 5%; highest 16%; average 8.6%
% of total campaign dials that SDP has provided — Amanda White Eagle 93%, Ricky Junquera 88%, Brian Farkas 39%, Brittney Rodas 45%.
4. FIELD AND FUNDRAISING: NEW PROGRAMS COMING
Texting – As is the case each year, the availability of texting for our candidates will vary. As of right now, most of our campaigns do not anticipate need texting support from us at Sister District. That may change in the future, and we'll keep you all updated. In the meantime, we're exploring texting opportunities for our volunteers with caucuses and state parties, similar to our texting offerings in 2018.
Dialers – We are working with our candidates to get autodialers in place where possible. Dialers require at least 5 callers on at the same time for a good user experience, so we will likely ask our campaigns to turn them on when you are having phonebanks. So, please make sure you're using the phonebank notices form so we can understand your capacity. More info soon!
Spanish Phonebanking – We piloted our Spanish language program on Sept 1. It was a great success! We are going to run additional events every two weeks on Tuesdays. Here is the link to share with Spanish proficient volunteers who are interested in joining.
5. NEXT POLITICAL DIRECTOR CALL – TUE. 10/13
The next Political Director Call is on Tuesday, October 13 at 5pm PT / 8pm ET. Political Director Calls are held the second Tuesday of each month. They cover any current races and political strategy, field & fundraising metrics updates, and other political/programmatic topics.
Register here; add these calls to your Google Calendar or Outlook. Calls are open to all District Captains and Affiliate leaders; these are not recorded.