CA-3 Matching Donation Blitz
Raising for: Candidates
Date: July 26th, 2021
Time: 1 hr/committee member
Total raised: $4,278 — $2,000 match opportunity generated $2,278 in small-dollar donations
Our formidable Sister District CA-3 leaders Kelly Wilkerson, Meghan Miller, Amy Seropian and Kari Peterson created an incredible matching donation fundraiser for VA House of Delegate Nancy Guy. For their "Match Monday" fundraiser, CA-3 leadership found two donors willing to partner to double any donations made by the CA-3 team up to $2,000 in a single day. The single-day deadline created urgency for potential donors, and the matching promise — always attractive to small-dollar donors — made every dollar donated go twice as far. They used email, text, and social media. The effort raised a total of $4,278; the $2,000 match opportunity generated $2,278 in small-dollar donations!
How did they do it?
Step one: Find matching donors.
The first step to a successful Matching Donation Blitz was finding a matching donor (or two, or more!) to double the impact of every dollar raised. Meghan, Kelly, Kari, and Amy used personal connections to secure donors, but teams can also consider soliciting matching donations from past high-dollar donors like Sister District NYC did in this case study.
Step two: Promote by email.
To advertise "Match Monday," CA-3 leaders first announced the fundraiser a week in advance through their newsletter. Then, on Sunday night, the night before the Donation Blitz day, they sent a second email to alert, remind, and create urgency around the start of matching donations at 7am the next day. The email garnered 36 donation link clicks, resulting in 25 donations totaling $1,177.10.
Step 3: Promote by text.
In addition to the email notification, team leaders worked with Sister District Organizing Manager Madison to text through the Sister District CA-3 list of mobile numbers using Hustle. Texting a list of 620 members generated 24 "Yes" donation responses, 15 donations, raising an additional $536.26.
Step 4: Promote on social media.
At the same time as their first email announcement was sent, leaders began a social media push, using the CA-3 Facebook page to announce the start of Match Monday and provide updates throughout the day, posting about their progress every few hours until their goals were reached.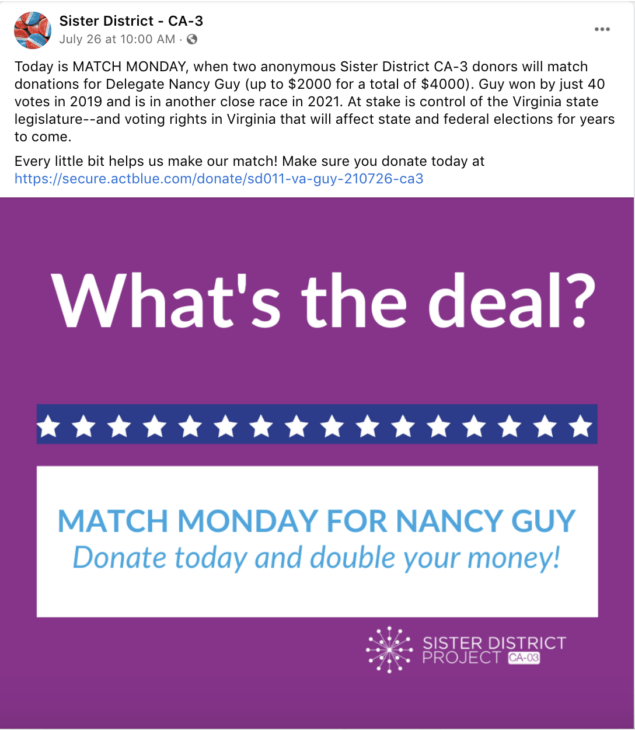 In total, CA-3 members raised $2,278 in a single day, and with their $2,000 match earned a total of $4,278 for the Nancy Guy campaign!
If your team is interested in hosting a similar Matching Donation Blitz, ask your Organizing Department staffer to help get your fundraiser set up!